DK's Ben Hinks Opens the Gates of Our Wondrous National Parks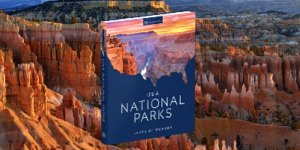 America's national parks are like breathing spaces – precious regions to conserve nature and wildlife for present and future generations. USA NATIONAL PARKS: Lands of Wonder, published by DK Eyewitness Travel, is a celebration of all 62 of our country's magnificent national parks, showcasing what makes each one unique, with beautiful photography, maps, facts and figures, things to do, and when and where to experience.
In this Behind the Pages Igloo interview, DK's Ben Hinks, Project Art Editor, shares insights into the design process, favorite spreads, and what elements of the book will be most appealing to readers.
How did you and the team start brainstorming the design of this book and what parts of the process were most inspiring?
When we first started on this project, we really wanted to showcase the National Parks in a way that nobody had done before. We wanted the book to inspire people to travel to the parks, whilst also informing them about the history and culture surrounding them.
The most inspiring part of the process for me was immersing myself in the National Parks, to get a real sense of what they're like. Being based in the UK, I've only had the opportunity to travel to a handful of parks myself (Yosemite and Redwoods), but having to experience, albeit virtually, these parks again was something I was very excited to do. I think the wide variety of parks is the key draw for me, as this is something we don't have in the UK, and looking at all of the parks, we knew this would be a great book to create.
Being part of the team responsible for telling the lesser known history of these National Parks, was also incredibly inspiring. Knowing we were doing our best to highlight the struggles of the Unsung Heroes (pg. 20), such as Captain Charles Young, the first African American National Park Lieutenant, or Selena LaMarr, who was famous for educating staff and visitors about the skilled craftsmanship of American Indians, was very rewarding.
Can you share your favorite spread and why you love it?
As a designer it's hard to ignore the beautiful images in the book, picking a favorite spread is so hard – there's so many to choose! From the stunning aerial photography of Yellowstone (p34), to the drama of the flowing lava in Hawai'i Volcanoes (pg. 82), or the craning views of The Narrows in Zion (p96) to the seemingly endless lush wetlands of the Everglades (pg. 142). The one park that always stands out to me is Olympic National Park (pg. 126), with its epic scenery of towering forests, straight through to idyllic sandy beaches. I've always wanted to travel here, and working on these spreads stirred up all that wanderlust again! I can just picture myself there camping on the wild coast, waves gently lapping overhead, the smell of sea salt in the air, looking out to the Pacific Coast every morning.
How would you describe the process of designing and creating a visual book like this?
Creating this book had challenges like we'd never experienced before. Starting in the office with a small team, we spent a couple of months researching, designing, commissioning, editing and re-designing. We wanted to create a beautiful and informative book, pulling in historical elements throughout, that makes the reader want to travel and experience the grandeur of USA's National Parks. Once we had a design style we were all happy with, we used a freelancer called Abi Read, who was brilliant in helping pull all of the text and images together. Then COVID-19 struck and all of a sudden we found ourselves working from home, every day, with all the challenges that brings! Sending a book to print in this situation was something that has never happened before, but the team worked exceptionally through difficult situations and managed to get it completed without a hitch – a huge effort from everyone involved!
Everyone in the team has a huge passion for travel, and with the wide variety of styles and preferences of how we travel, combined with what we wanted from this title, I think it's come together brilliantly. This is a title we're all very proud of and we can't wait to get our hands on a copy!
What elements of USA NATIONAL PARKS: Lands of Wonder do you think will be most appealing to readers?
There is so much in this book that will appeal to so many types of readers, I genuinely think this book has something for everyone.
The stunning photography showcases just how diverse the National Parks are, from deep and intense rainforests to desolate deserts that over the horizon forever, via cave systems you never knew existed, appealing to anyone with a passion for travel and the USA's National Parks.
The copy has a focus on the historical angle of the National Parks, something that isn't covered in other titles. As a designer, reading through the historical text was very interesting as there was so much I didn't know about. Having this kind of information in the book is so rewarding and inspiring, and will appeal to everyone.
Posted: September 24, 2020