Dolly Parton Reads LLAMA LLAMA RED PAJAMA on YouTube and Social Channels (4/16)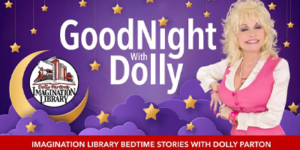 Dolly Parton's weekly "Goodnight With Dolly" series continues as she reads Anna Dewdney's LLAMA LLAMA RED PAJAMA (Viking Books for Young Readers) on Thursday, April 16, at 7:00pm (ET) on YouTube and Imagination Library's official social channels on Facebook, Twitter and Instagram.
"Goodnight With Dolly" features the award-winning singer- songwriter reading a series of Imagination Library books all carefully chosen for their appropriate content at this moment in time.
Anna Dewdney's classic rhyming tale introduces Llama Llama and his difficulty going to sleep after Mama Llama heads downstairs. Why doesn't she come when he calls for her?! Humorous bedtime drama ensues and will comfort as well as amuse the youngest of listeners!
"This is something I have been wanting to do for quite a while," Dolly Parton said, "but the timing never felt quite right. I think it is pretty clear that now is the time to share a story and to share some love. It is an honor for me to share the incredible talent of these authors and illustrators. They make us smile, they make us laugh and they make us think."
!!A reminder for PRH employees: If you are posting this article to a personal or other non-PRH account you must include the hashtag #TeamPRH.!!
Posted: April 15, 2020