Dolly Parton Reads STAND TALL, MOLLY LOU MELLON on YouTube and Social Channels (5/28)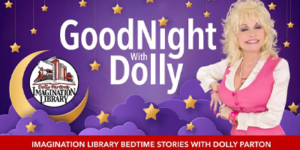 Dolly Parton's weekly "Goodnight With Dolly" series continues as she reads Patty Lovell's STAND TALL, MOLLY LOU MELLON, illustrated by David Catrow , (Putnam Books for Young Readers) via YouTube and Imagination Library's official social channels on Facebook, Twitter and Instagram on Thursday, May 28, at 7:00pm (ET).
"Goodnight With Dolly" features the award-winning singer- songwriter reading a series of Imagination Library books all carefully chosen for their appropriate content at this moment in time.
STAND TALL, MOLLY LOU MELLON teaches young readers to be yourself like Molly Lou, no matter what a bully may do. Molly Lou Melon is short and clumsy, has buck teeth, and has a voice that sounds like a bullfrog being squeezed by a boa constrictor. She doesn't mind. Her grandmother has always told her to walk proud, smile big, and sing loud, and she takes that advice to heart.
"This is something I have been wanting to do for quite a while," Dolly Parton said, "but the timing never felt quite right. I think it is pretty clear that now is the time to share a story and to share some love. It is an honor for me to share the incredible talent of these authors and illustrators. They make us smile, they make us laugh and they make us think."
!! As a reminder, if you are a PRH employee posting to a personal or other non-PRH account, you must include the hashtag #TeamPRH !! 
Posted: May 27, 2020