Dolly Parton Reads THE LITTLE ENGINE THAT COULD, Broadcast on YouTube and Social Channels (4/2)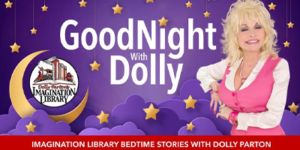 Dolly Parton will be reading a children's book for bedtime every Thursday evening over the course of a 10-week series entitled "Goodnight With Dolly," beginning on Thursday April 2 at 7:00pm (ET). The first book Dolly will be reading is THE LITTLE ENGINE THAT COULD 90th Anniversary edition by Watty Piper, introduction by Dolly Parton, illustrated by Dan Santat (Grosset & Dunlap). To see and hear Dolly read, go to YouTube or Imagination Library's official social channels on Facebook, Twitter and Instagram.
The kindness and determination of the Little Blue Engine have inspired millions of children around the world since the story was first published in 1930. Cherished by readers for ninety years, THE LITTLE ENGINE THAT COULD is a classic tale of a little engine that, despite her size, triumphantly pulls a train full of wonderful things to the children waiting on the other side of a mountain.
"Goodnight With Dolly" will feature the award-winner singer- songwriter reading a series of Imagination Library books all carefully chosen for their appropriate content at this moment in time.
Dolly Parton said, "This is something I have been wanting to do for quite a while, but the timing never felt quite right. I think it is pretty clear that now is the time to share a story and to share some love. It is an honor for me to share the incredible talent of these authors and illustrators. They make us smile, they make us laugh and they make us think."
Posted: April 1, 2020