Dolly Parton Reads VIOLET THE PILOT on You Tube and Social Channels (5/14)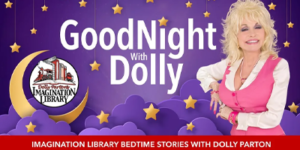 Dolly Parton's weekly "Goodnight With Dolly" series continues as she reads Steve Breen's VIOLET THE PILOT (Puffin) on Thursday, May 14, at 7:00pm (ET) on YouTube and Imagination Library's official social channels on Facebook, Twitter and Instagram.
"Goodnight With Dolly" features the award-winning singer- songwriter reading a series of Imagination Library books all carefully chosen for their appropriate content at this moment in time.
In VIOLET THE PILOT, Violet Van Winkle is a science-loving girl inventor with a flair for the air in this classic underdog story by two-time Pulitzer Prize-winning editorial cartoonist Steve Breen. By the time she's two years old, Violet can engineer nearly any appliance in the house. And by eight she's building elaborate flying machines from scratch—mind-boggling contraptions such as the Tubbubbler, the Bicycopter, and the Wing-a-ma-jig. The kids at school tease her, but they have no idea what she's capable of.
"This is something I have been wanting to do for quite a while," Dolly Parton said, "but the timing never felt quite right. I think it is pretty clear that now is the time to share a story and to share some love. It is an honor for me to share the incredible talent of these authors and illustrators. They make us smile, they make us laugh and they make us think."
!! As a reminder, if you are a PRH employee posting to a personal or other non-PRH account, you must include the hashtag #TeamPRH !! 
Posted: May 13, 2020