Dolly Parton's Imagination Library Now Serves Over 10% of Children Under 5 in the U.S.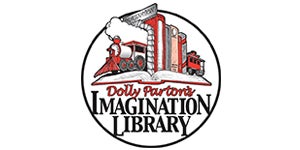 Dolly Parton's Imagination Library has reached a new milestone! Dolly Parton's Imagination Library, a book gifting program and longtime partner of Penguin Young Readers, now distributes books to over 10% of the U.S. population under the age of five. As of September 2022, The Imagination Library will mail close to 2 million age-appropriate books per month to children from birth to the age of five, no matter their family's income. 
Parton created the Imagination Library in 1995 to inspire a love for books and reading amongst the nation's preschool children. It began as a gift for the children in Dolly's hometown, Sevierville, Tennessee, and is now active in all 50 states, and 5 countries. Penguin Young Readers has been a proud partner of The Imagination Library since 2001, with Random House Children's Books joining in 2017, and together, they have helped Dolly Parton distribute more than 190 million books to children around the world.
You can revisit episodes of Goodnight with Dolly here!
Posted: September 7, 2022