Dolly Parton's "The Library That Dolly Built" to Premiere via Facebook Live on Dec. 9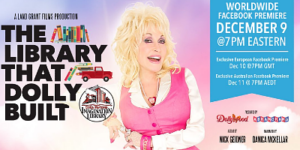 The Dollywood Foundation, a longtime partner of Penguin Young Readers, will present a free one-night-only live streaming world premiere event for The Library That Dolly Built, a behind-the-scenes look at Dolly Parton's literacy-focused non-profit, Imagination Library, on Wednesday, December 9. Originally scheduled as a nationwide live event on more than 300 screens this spring, the world premiere for The Library That Dolly Built: Celebrating the People Who Made Dolly's Dreams Come True, has been reimagined as a free live stream screening of the film, exclusively on Facebook, available nationally on December 9 at 7:00 pm (EST). The screening will be followed by a conversation with, and live acoustic performance by Dolly Parton.
Viewers can tune into the live screening and conversation on ImaginationLibrary.com. In addition, the European premiere will be Thursday, December 10 at 7:00 pm (GMT), and the Australian premiere will be Friday, December 11, at 7:00 pm (AEDT).
The film goes behind the scenes of Dolly Parton's Imagination Library, to show how one of the most famous and beloved performers in the world has partnered with thousands of local community organizations to develop an efficient and effective program for spreading the love of reading. The film also provides a glimpse of the profound impact the Imagination Library has on the people through original interviews with Penguin Young Readers authors, policymakers, Imagination Library staff, recipients, Penguin Random House's very own Lisa Vitelli, Vice President, Premium Sales, and the legend herself, Dolly Parton.
Parton created the Imagination Library in 1995 to inspire a love for books and reading amongst the nation's preschool children. It began as a gift for the children in Dolly's hometown, Sevierville, Tennessee, and is now active in all 50 states, and 5 countries, gifting 1.7 million free, age-appropriate books to children every month. Penguin Young Readers has been a proud partner of The Imagination Library since 2007, and together, has helped Dolly Parton distribute 150 million books to children around the world. This spring, Dolly read several of her favorite books from the Imagination Library program during a weekly bedtime reading series, "Goodnight With Dolly," presented across Facebook and YouTube, which garnered more than 15 million views, exceeding all expectations.
Dolly Parton said, "I am so excited that we can finally tell the whole story of the Imagination Library. It is certainly not just about me. Our story is the story of children, of families and communities who all share the dream to inspire kids to love to read and to love to learn. My hope is this documentary will encourage more towns, more states and even more countries to jump onboard. One thing is for sure, I think this is the best investment I have ever made!"
For more information, please visit www.imaginationlibrary.com/film
Watch the trailer for the film on the screen below:

Posted: December 4, 2020