Double Feature: Two PRH Titles Are "Read With Jenna" TODAY Show Book Club August Picks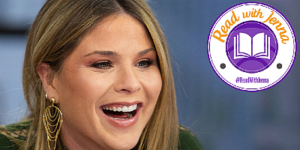 Jenna Bush Hager has announced her Read With Jenna TODAY Show Book Club August picks: THE COMEBACK by Ella Berman (Berkley) and HERE FOR IT by R. Eric Thomas (Ballantine), both titles published by Penguin Random House imprints.
"I chose The Comeback because to me, it is the perfect summer read," Jenna said, adding that when she started Berman's debut novel, she had been struggling to find joy in reading for the first time in her life, as she dealt with anxieties brought on by the coronavirus pandemic. "This beautifully written and compulsively readable book broke me from my pandemic blockage."
Alternating between the past and present, The Comeback tackles power dynamics and the uncertainty of young adulthood, the types of secrets that become part of our sense of self, and the moments when we learn that though there are many ways to get hurt, we can still choose to fight back.
"I really wanted to focus on the aftermath of trauma as opposed to the actual incident itself, and I wanted to show how that can affect someone — their relationship with everyone in their life, their friendships, their career — that feeling of numbness or being frozen," Berman told TODAY.
In collaboration with Noelle Santos, Jenna Bush Hager also chose Here For It as an August Read With Jenna pick. Jenna met Santos, owner of The Lit Bar, the only independent bookstore in The Bronx, New York, for the first time a few years ago when she filmed a segment about her bookstore for TODAY. "I just loved how she was bringing a new face to literature and I loved her passion for it," Jenna said.
In the wake of George Floyd's death, Jenna shared that she wanted to promote a book that could continue important conversations happening around the country. "I knew (Santos) would have ideas on books that we can read as a club that would help us open our minds," said Jenna.
Here For It is a memoir, presented through essays, about R. Eric Thomas's life, identity and journey to self-acceptance while he was growing up as a Black and queer man in the U.S.
"I had been telling a lot of these stories that are included in the book in the essay form at live storytelling shows for a long time and I realized that a story has the power to unite people whether we have different backgrounds or not and to engender empathy," Thomas told TODAY.
Posted: August 4, 2020