Doubleday Author Meghan O'Gieblyn Searches for Meaning in the Age of Artificial Intelligence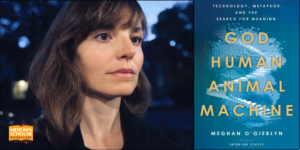 Meghan O'Gieblyn, author of GOD, HUMAN, ANIMAL, MACHINE: Technology, Metaphor, and the Search for Meaning (Doubleday), will be in conversation about her new book with author Ed Simon at a live streamed virtual event hosted by Midtown Scholar Bookstore (Harrisburg, PA) via Zoom on Wednesday, August 25 at 7:00 pm (ET).
To register, click here.
This book is an original exploration of what it means to be authentically human in the age of artificial intelligence. Ms. O'Gieblyn tackles this challenge with philosophical rigor, intellectual reach, essayistic verve, refreshing originality, and an ironic sense of contradiction. She draws deeply and sometimes humorously from her own personal experience as a formerly religious believer still haunted by questions of faith, and she serves as a good guide to navigating the territory we are all entering.
"Meghan O'Gieblyn is a brilliant and humble philosopher, and her book is an explosively thought-provoking, candidly personal ride I wished never to end. . .This book is such an original synthesis of ideas and disclosures. It introduces what will soon be called the O'Gieblyn genre of essay writing." –Heidi Julavits, author of The Folded Clock
Ms. O'Gieblyn is the author of the essay collection Interior States, which was published to wide acclaim and won the Believer Book Award for Nonfiction. Her writing has received three Pushcart Prizes and appeared in The Best American Essays anthology. She writes essays and features for Harper's Magazine, The New Yorker, The Guardian, Wired, The New York Times, and elsewhere. She lives with her husband in Madison, Wisconsin.
Posted: August 24, 2021