Doubleday Canada to Publish Comedy Legend Rick Mercer's Memoir This Fall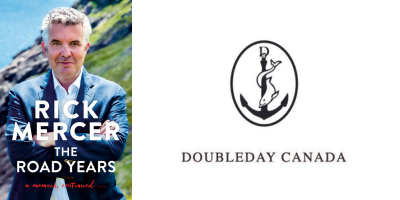 Doubleday Canada is pleased to announce that it will be publishing a new memoir from Canadian comedy legend Rick Mercer this fall. THE ROAD YEARS, a follow-up to the blockbuster bestselling TALKING TO CANADIANS, will be in stores this November and picks up where TALKING TO CANADIANS left off: the greenlighting of what would become Rick Mercer Report. Plans for the show, of course, included political satire and Rick's patented rants. But Rick and his partner were also determined to do something that comedy tends to avoid as too challenging: they would emphasize the positive. Rick would travel from coast to coast to coast in search of everything that's best about Canada, especially its people. He found a lot to celebrate.
Of the new memoir, Rick Mercer says, "For a decade and a half my job involved weekly adventures across Canada that were ridiculous, hysterical, and sometimes death-defying. To be terrified and humiliated in front of millions of Canadians every week was my great privilege. I loved revisiting these years while writing this book. There were more laughs than I can count and stories I promised I would never tell."
Amy Black, Publisher of Doubleday Canada, says, "It's always a joy and a special privilege to publish a book by the incomparable Rick Mercer, and in THE ROAD YEARS, the sense of adventure, curiosity, and—not least—humour that characterized his spectacular fifteen-year run at the helm of Rick Mercer Report enlivens every page. The legions of readers from coast to coast to coast who made TALKING TO CANADIANS a #1 bestseller will be rewarded once more by Rick's story-telling gifts in this one-of-a-kind memoir."
Rick Mercer co-created and performed on CBC's This Hour Has 22 Minutes, created and starred in Made in Canada, and created and starred in Talking to Americans, the most-watched comedy special in Canadian television history. He went on to host the hugely successful Rick Mercer Report for 15 seasons. Rick was appointed an Officer of the Order of Canada in 2014 for his work with charitable causes and "his ability to inspire and challenge Canadians through humour."
In 2019, Mercer received a Governor General's Performing Arts Lifetime Artistic Achievement Award. His 2021 memoir, TALKING TO CANADIANS, won the Stephen Leacock Memorial Medal for Humour. He is from Middle Cove, Newfoundland and Labrador.
Posted: May 16, 2023