Dr. Christine Montross to Discuss WAITING FOR AN ECHO: The Madness of American Incarceration via Zoom (8/16)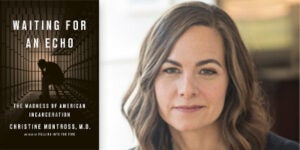 Book Passage presents Dr. Christine Montross, author of WAITING FOR AN ECHO: The Madness of American Incarceration (Penguin Press), in conversation with Sussanah Cahalan via Zoom on Sunday, August 16 at 7:00 pm (ET). 
Dr. Montross reveals the psychological toll of incarceration and examines how we disproportionately punish people of color, people who are poor, and people who are mentally ill.  Galvanized by her work in our nation's jails, the psychiatrist illuminates the human cost of mass incarceration and mental illness. She has spent her career treating the most severely ill psychiatric patients. Several years ago, she set out to investigate why so many of her patients got caught up in the legal system when discharged from her care–and what happened to them therein.
WAITING FOR AN ECHO is a riveting, rarely seen glimpse into American incarceration. It is also a damning account of policies that have criminalized mental illness, shifting large numbers of people who belong in therapeutic settings into punitive ones.
A 2015 Guggenheim Fellow in General Nonfiction, Dr. Montross is an associate professor of psychiatry and human behavior at the Warren Alpert Medical School of Brown University and a practicing inpatient psychiatrist. She is also an award-winning poet and the author of Body of Work and Falling into the Fire.
!! As a reminder, if you are posting to a personal or other non-PRH account you must include the hashtag #TeamPRH !! 
Posted: August 13, 2020