Dr. Ibram X. Kendi Partners with Netflix for Adaptations of Three of His Books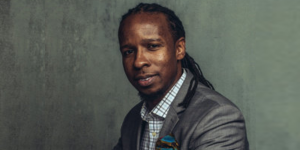 Dr. Ibram X. Kendi is partnering with Netflix on adaptations of three of his books, Stamped From the Beginning; Stamped: Racism, Antiracism and You; and ANTIRACIST BABY.
Dr. Kendi's ANTIRACIST BABY, a New York Times bestseller published in July 2020 by Kokila, a Penguin Young Readers imprint, will be adapted into a series of musical animated shorts. Dr. Kendi will serve as executive producer along with Chris Nee, creator of the Peabody-winning Disney Junior series Doc McStuffins. Mr. Nee commented, "I feel deeply honored to have a chance to help deepen the impact of Dr. Kendi's work. We are living in tumultuous times, and it is incumbent on all of us to use our platforms to make the world a better place. ANTIRACIST BABY aligns perfectly with the values of my company, Laughing Wild, and Netflix as a whole, and we are excited to be a vehicle through which it can continue to influence the world for the better."
Stamped from the Beginning will be a documentary feature based on Dr. Kendi's 2016 book, Stamped from the Beginning: The Definitive History of Racist Ideas in America, which won that year's National Book Award for Nonfiction. The film will be directed by Roger Ross Williams, the first Black director to win an Oscar (for the documentary short Music by Prudence).
Another Netflix documentary, this one geared towards the Young Adult audience, Stamped: Racism, Antiracism and You, is based on Dr. Kendi's YA book of the same name, co-authored by Jason Reynolds. Also directed and produced by Mr. Williams, with Dr. Kendi executive producing, it will serve as a companion to Stamped From the Beginning to explain how racism in America originated and has persisted, in hopes of learning how to counter it.
Posted: January 21, 2021