Dr. Jordan B. Peterson Announces the Follow-Up to His Global Bestseller 12 RULES OF LIFE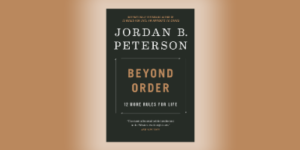 The author of the global bestseller 12 RULES OF LIFE, Dr. Jordan B. Peterson has reached a publishing agreement for his next book with three imprints of Penguin Random House: Portfolio in the United States, Penguin Press in the United Kingdom, and Random House Canada in Canada. This highly anticipated follow-up, titled BEYOND ORDER: 12 More Rules for Life, delivers twelve more life-saving principles for resisting the exhausting toll that our desire to order our worlds inevitably takes.
The audio edition of the book will read by Dr. Peterson, and issued in digital and physical formats by Penguin Random House Audio. Simultaneous hardcover and digital publication is scheduled for March 2, 2021.
After working for decades as a distinguished clinical psychologist and a celebrated professor at Harvard and the University of Toronto, Peterson has become one of the world's most influential public intellectuals. His YouTube videos and podcasts–describing the deep connections between neuroscience, psychology, mythology, and religion–have gathered a worldwide audience of hundreds of millions. 12 Rules for Life has sold over five million copies worldwide and his global book tour has reached more than 250,000 people in 100 different cities.
Says Adrian Zackheim, President and Publisher of Portfolio, "Dr. Peterson has already proved a dedicated and enthusiastic partner—even as he faced family hardships and his own illness. I couldn't be more excited to partner with one of today's most influential thinkers."
In a time when the human will increasingly imposes itself over every sphere of life—from our social structures to our emotional states–Beyond Order warns that too much security is dangerous. What's more, it offers strategies for overcoming the cultural, scientific, and psychological forces causing us to tend toward tyranny, and teaches us how to rely instead on our instinct to find meaning and purpose, even—and especially—when we find ourselves powerless.
Says Peterson, "While chaos, in excess, threatens us with instability and anxiety, unchecked order can petrify us into submission. My hope is that Beyond Order helps readers balance the two fundamental principles of reality itself, and guide us along the straight and narrow path dividing them."
Dr. Jordan B. Peterson is the bestselling author of 12 RULES OF LIFE, which has sold over five million copies worldwide. With his students and colleagues, Dr. Peterson has published over a hundred scientific papers, and his 1999 book Maps of Meaning revolutionized the psychology of religion. He lives in Toronto, Ontario with his family.
Posted: November 24, 2020