Dr. Kari Nadeau on "Food Allergy and Asthma in the Era of COVID-19" via OurHealthTalks.com (5/13)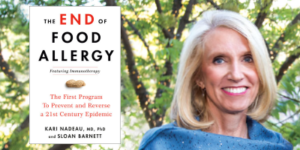 Dr. Kari Nadeau, author of THE END OF FOOD ALLERGY (Avery), will discuss "Food Allergy and Asthma in the Era of COVID-19" via OurHealthTalks.com on Wednesday, May 13 at 1:30pm (ET).
The problem of food allergy is exploding around us. THE END OF FOOD ALLERGY offers the first glimpse of hope with a powerful message: You can work with your family and your doctor to eliminate your food allergy forever.
The trailblazing research of Dr. Kari Nadeau at Stanford University reveals that food allergy is not a life sentence, because the immune system can be retrained. Food allergies–from mild hives to life-threatening airway constriction–can be disrupted, slowed, and stopped. The key is a strategy called immunotherapy (IT)–the controlled, gradual reintroduction of an allergen into the body. With innovations that include state-of-the-art therapies targeting specific components of the immune system, Dr. Nadeau and her team have increased the speed and effectiveness of this treatment to a matter of months. New York Times bestselling author Sloan Barnett, the mother of two children with food allergies, provides a lay perspective that helps make Dr. Nadeau's research accessible for everyone.
!! As a reminder, if you are a PRH employee posting to a personal or other non-PRH account, you must include the hashtag #TeamPRH !! 
Posted: May 12, 2020