DREAMing Out Loud with CUNY Students at Penguin Random House About Creative Expression & Diversity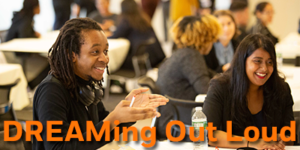 Penguin Random House hosted students from the City University of New York (CUNY) for a day-long seminar on the publishing industry, professional development, and creative expression, entitled DREAMing Out Loud, on May 3. The career symposium was organized in collaboration with the NYC Mayor's Office of Media and Entertainment and PEN America, and part of the DREAMing Out Loud Writing Workshop, a program aimed at students of diverse immigration statuses enrolled at such CUNY schools as Lehman College, Queens College, and Medgar Evers College. In addition to guidance from Teaching Artists and notable authors, the participants in the program receive one-on-one editorial mentoring from professional writers.
First among the day's speakers and discussion leaders was Penguin Random House U.S. CEO Madeline McIntosh, telling the students in her introductory remarks: "We believe strongly in the power of books to connect and change lives and welcome your unique perspectives on how we can continue to champion diverse voices. All readers deserve to see their stories reflected on the page and your writing is a step forward in making this happen."
Annysa Polanco, PRH's Manager of Diversity & Inclusion, guided students through an interactive seminar on developing networking skills during the early phases of their careers.
Christine Hung, Senior Director of Campaigns, chaired the "Careers in the Publishing Industry" panel discussion with Felicia Frazier, SVP, Children's and Educational Sales; Cindy Hwang, VP and Editorial Director at Berkley; and Dan Zitt, SVP, Content Production, Penguin Random House Audio U.S. In a lively discussion, the participants shared their own career trajectories and offered advice on how to get a start in publishing.
For the "Authenticity in the Workplace" panel, Claire von Schilling, EVP and Director, Corporate Communications, facilitated a conversation with Chris Jackson, Publisher and Editor in Chief of One World; Patrick Nolan, VP, Associate Publisher and Editor in Chief of Penguin Books; Elda Rotor, VP and Publisher of Penguin Classics, and Namrata Tripathi, VP and Publisher of Kokila. Drawing on their own experiences, the panelists shared personal reflections while candidly discussing how to develop and identify authentic talent and support diverse storytellers, as well as the value of staying true to oneself.
Keynote speaker Reshma Saujani, author of the international bestseller, BRAVE NOT PERFECT, and founder of Girls Who Code, discussed her career as an activist and offered inspirational messages from her latest book, such as: "By being brave, not perfect, we can all become the authors of our biggest, boldest, and most joyful life."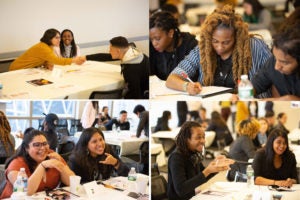 The day concluded with a Q&A and feedback session. Many of the questions demonstrated the students' ambition and drive to become published authors and make their voices heard as part of the broader cultural discourse. Facilitators from Penguin Random House encouraged students to keep in touch as they consider careers in publishing.
Anne del Castillo, Commissioner of the Mayor's Office of Media and Entertainment, gave final remarks expressing her gratitude to students for participating in the program.
Posted: May 9, 2019