Dutton's Jill Schwartzman Goes Inside the Game with Joe Buck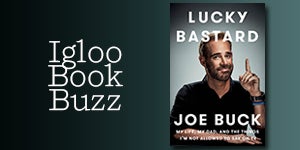 Joe Buck, the announcer of this century's most-watched, historic, Chicago Cubs–winning Major League Baseball World Series reveals why he is one LUCKY BASTARD, his new memoir and this week's Igloo Book Buzz title. Dutton Executive Editor Jill Schwartzman, who edited the book, says, "I've been a sports fan all my life, but in the year and half I've been working with Joe, I've learned to love baseball and football even more. Joe's deep knowledge about the game, the players, and what it takes to share all the details with the viewing audience adds a new — and fascinating — level to everything I watch. And there's no better example than the 2016 World Series. I loved Joe's perspective as a viewer, but after having read – and edited – his book, I was able to enjoy the Series, and his calls, on an even deeper level. I know readers will have a similar experience after reading LUCKY BASTARD. They'll learn what's going on behind the scenes of the sports they love, and also enjoy Joe's genuinely funny, razor-sharp wit. I feel so lucky to have worked with Joe, and so lucky to be sharing this book with all of you."
Before beginning this book project, Joe Buck said, "I can't wait to tell the emotional and often funny story of my life as both a sportscaster and my father's son. Perceptions will be addressed and confessions made." LUCKY BASTARD accomplishes that and more.
While sports fans see and hear Joe everywhere: broadcasting one of the biggest games in the NFL every week, calling the World Series every year, announcing the Super Bowl every three years. And they know his father, Jack, a broadcasting legend and beloved in his adopted hometown of St. Louis. Most fans and readers have no idea who Joe really is.
In this book, readers will learn how hard Joe can laugh at himself—that he thinks some of his critics have a point — and what it was really like to grow up in his father's shadow. Joe and Jack were best friends, but it wasn't that simple. Jack Buck, the voice of the St. Louis Cardinals for almost fifty years, helped Joe get his broadcasting start at eighteen. But Joe had to prove himself, first as a minor league radio announcer and then on local TV, national TV with ESPN, and then finally on FOX. He now has a successful, Emmy-winning career, but only after a lot of dues-paying, learning, and pretty damn entertaining mistakes that are recounted in this book.
Posted: November 8, 2016