Edugyan's WASHINGTON BLACK (Knopf U.S.), 2018 Scotiabank Giller Prize (Canada) Winner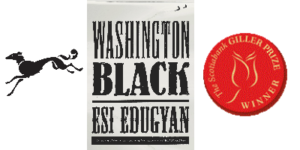 WASHINGTON BLACK, an epic 19th-century globe-spanning adventure by Esi Edugyan, published in the U.S. by Knopf and Random House Audio, has been selected as the 2018 winner of Canada's most prestigious award for excellence in fiction, the Scotiabank Giller Prize. The award was announced Monday, November 19 at a dinner in Toronto attended by the five judges and leading members of the national and local cultural community, including Kristin Cochrane and our colleagues at Penguin Random House Canada.
This is the fourth time in five years a book published by a Penguin Random House imprint is the Giller recipient. Our previous winners are BELLEVUE SQUARE by Michael Redhill (Doubleday Canada, 2017); DO NOT SAY WE HAVE NOTHING by Madeleine Thien (Knopf Canada, 2016); and US CONDUCTORS by Sean Michaels (Random House Canada, 2014).
A resident of Victoria, British Columba, Esi Edugyan was awarded her first Scotiabank Giller Prize in 2011 for HALF-BLOOD BLUES. Her first novel, THE SECOND LIFE OF SAMUEL TYNE, published originally by Knopf Canada has been newly issued by Vintage Canada, and is being recorded this week for release as a Penguin Random House Canada Audio.
WASHINGTON BLACK was a finalist for this year's UK Man Booker Award, and it was just named one of the top 10 fiction titles for 2018 by Time Magazine. Its eponymous protagonist is an eleven-year-old field slave on a Barbados sugar plantation, compelled to become the manservant to his master's eccentric brother, who joins him when he is forced to flee when wrongly accused of killing a white man. Ron Charles wrote in the Washington Post that WASHINGTON BLACK is "terrifically exciting… An engrossing hybrid of 19th-century adventure and contemporary subtlety, a rip-roaring tale of peril imbued with our most persistent strife… Discover what the rest of the world already knows: Edugyan is a magical writer."
The jury praised WASHNGTON BLACK as "a supremely engrossing novel about friendship and love and the way identity is sometimes a far more vital act of imagination than the age in which one lives."
In accepting her award, a thrilled Ms. Edugyan thanked the jury, her family, agent, her editors and publishers, including Alfred A. Knopf, and Knopf Senior Editor Diana Miller, concluding, "In a climate where so many forms of truth-telling are under siege, this prize feels like an important celebration of words."
We congratulate our author, her editor Diana Miller and the Knopf and Penguin Random House Audio publishing teams, and our Penguin Random House Canada longlist and shortlist contenders for this year's Scotiabank Giller Prize.
Posted: November 20, 2018