Edwidge Danticat First Two-Time Winner of The Story Prize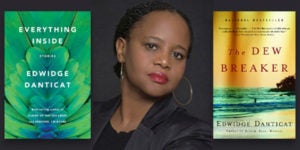 Edwidge Danticat has won The Story Prize for her short-fiction collection, EVERYTHING INSIDE (Alfred A. Knopf). Her 2005 book THE DEW BREAKER (Vintage) won the inaugural award competition, making her the first ever two-time winner of The Story Prize. At this year's awards ceremony, held on Wednesday, February 26, at the New School in Manhattan, Danticat received $20,000 and an engraved silver bowl.
A finalist for a National Book Critics Circle Award, EVERYTHING INSIDE also won the 2020 Vilcek Prize in Literature, and was named a Best Book of 2019 by NPR, TIME, BuzzFeed, and Esquire.
This year, all three finalists for The Story Prize were PRH authors: Zadie Smith nominated for her short story collection, GRAND UNION (Penguin Press), and Kali Fajardo-Anstine recognized for SABRINA & CORINA (One World). As runners-up, Fajardo-Anstine and Smith each received $5,000.
Our warm congratulations to Ms. Danticat and everyone at Alfred A. Knopf, as well as our runners-up authors and their respective publishers.
This is the third consecutive year that a Penguin Random House author has won The Story Prize, with Lauren Groff taking home the award in 2019 for FLORIDA (Riverhead), and Elizabeth Strout winning in 2018 for ANYTHING IS POSSIBLE (Random House).
Posted: February 28, 2020