Eight PRH Authors on TIME 100 List, Cathy Park Hong on the Cover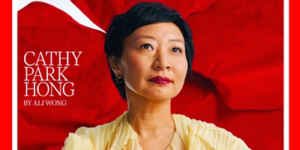 Eight authors published by Penguin Random House imprints are on the 18th annual TIME 100 Most Influential People List. One World's Cathy Park Hong, recognized as an Icon, is featured on the cover (one of seven versions) of the TIME print edition on newsstands now.
The TIME 100 list also includes these PRH authors: Dolly Parton, Prince Harry and Meghan, The Duke and Duchess of Sussex, among the Icons; Nikole Hannah-Jones among the Titans; Stacey Abrams and Kamala Harris among the Leaders; and Lil Nas X among the Artists.
Random House author Ali Wong, on last year's TIME 100 list, wrote about Ms. Hong for this year's issue, including these words: "When I read Cathy Park Hong's MINOR FEELINGS: An Asian American Reckoning, it felt like I was being shaken awake to something I had convinced myself wasn't real…. I annotated the hell out of MINOR FEELINGS—it's the kind of book you want to dog-ear and underline. Reading it was such a crazy feeling: I felt so seen that I couldn't believe that this book existed. And it's become even more painfully relevant in a year in which anti-Asian violence, which has always existed in America, has spiked so aggressively, putting our communities on high alert and searching for solidarity. This is the book to read when you ask me, 'How can I be an ally?' This is the book to read if you want to educate yourself. This is the book to read if you want to be more in touch with your humanity."
To view the complete TIME 100 list and read about the honorees, click here.
Posted: September 17, 2021