Ekpe Udoh – NBA Player, Passionate Reader, Book Club Founder – Visits Penguin Random House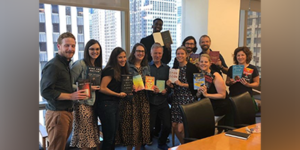 Basketball and book clubs? Not a common combination, but an important one to Ekpe Udoh. A professional player for the National Basketball Association's Utah Jazz, Mr. Udoh is a voracious reader and has his own book club, which attracted the interest of Michelle Obama earlier this year. "Do I get a vote?" Mrs. Obama tweeted to Mr. Udoh's request for help choosing his next book. "Of course, no voter suppression here! We will read BECOMING next," he replied. "At #EkpesBookClub we encourage the thoughts of individuals from all walks of life. It would be an honor if you could stop by for a discussion or join our Twitter discussion."
Last month, Mr. Udoh visited our Penguin Random House NYC offices at 1745 Broadway for a full work-day, attending a Viking/Penguin Hot Titles meeting; a strategy session for Ken Follett's upcoming fall book, NOTRE DAME: A Short History of the Meaning of Cathedrals; a Penguin Classics update; an Editorial Speed Dating lunch; plus meetings with International Sub-Rights and the Penguin Art department.
Patrick Nolan, Vice President, Associate Publisher, Editor-In-Chief, Penguin Books, says, "It was really exciting to get a call from the NBA with a request for Ekpe Udoh to come spend a day at Penguin Books as part of the NBA's Career Crossover program. The program is meant to educate and expose players to fields outside of basketball and Ekpe's other passion in life is reading. He told the program coordinator that he loved the books published by Penguin Random House and specifically asked if he could visit with Penguin Books."
Mr. Nolan worked with the NBA to plan Mr. Udoh's day at PRH, and says, "Ekpe's visit was incredible – everyone had a great time meeting him and talking about his book club and what he likes to read. He was so impressed with the team work and passion that goes into publishing that I wouldn't be surprised if we get a resume (or a book proposal) from him in the coming years; he definitely left with a list of possible future book club picks!"
On June 27, Ekpe's Twitter feed (@EkpeUdoh) retweeted a video posted by the @NBA: "Hey y'all, this is Ekpe Udoh here from the Utah Jazz. Currently I'm at Penguin Random House on a job shadowing opportunity which has been put on by the NBA, and it's been a great day so far. Pretty much learning the life of a book. Just sitting in on meetings, very positive spaces here. I really do love it."
In a special interview for Igloo, Mr. Udoh shares insights into his book club, his Twitter interaction with Michelle Obama, and what draws him to Penguin Random House and the books our imprints publish.
When, how and why did you create Ekpe's Book Club?
The book club started about 6 years ago while I was playing for the Milwaukee Bucks. Dan Smyczek and I came up with a way to interact with fans differently. It has been growing ever since. It's really a blessing that I am able to keep it going. Lately, we have been reading books that have challenged the way we think and everyone has been into it. This year, we started a series called "Author's Talk." I bring in authors of books that we have read. Been a success so far and wouldn't have been possible without the help of the Utah Jazz. Kari Holt-Larson deserves a lot of credit for making the series a success.
We understand your book club attracted the attention of Michelle Obama. Tell us how that came about.
It was a classic, "You never know who is watching." When I played with the [Los Angeles] Clippers, Chris Paul and I went to the White House to go through a tour. I had accepted the invite before I realized that the same night was a book club discussion. So during the tour, I was on the phone doing the discussion heavy and the guide, I think, made a remark along of the lines of "you have been on your phone quite a lot," and I had to apologize and let him know that I had a book club and that night was a discussion night. I think I took a picture there talking about "Running the book club at the White House." (lol) Finished the tour and we kept it moving. Little did I know, the tour guide had access to the Obamas.
Fast forward to this February and that tweet from her sent shock waves through the members of the book club. Really didn't know what to do or act in that moment (lol). Couple days later, CP calls me and reminds of that tour. Then I'm just in shock because who would've thought that the guide would start following the book club and then let Mrs. Obama know that we were voting on which book to read next! You never know who is watching!
What draws you to Penguin Random House titles and what are some of your favorites?
It seems like y'all have all of the authors. The books we read are usually chosen through me asking "which book should we read next." Then if a book is mentioned a couple times, then we will go with that book. Then, I do my research and more times than not, Penguin is the publisher. It is incredible how dominant that y'all have become. Couple favs are: EDUCATED by Tara Westover, HOMEGOING by Yaa Gyasi, AMERICANAH by Chimamanda Ngozi Adichie, and LITTLE FIRES EVERYWHERE by Celeste Ng.
As a professional basketball player, how do you find time to read books and lead a book club?
I find the time because I love to read. Wasn't always that way and that's why I read so much now. I don't watch TV as much anymore due to my love of reading. So many truths that I haven't been taught and I can find that in books, magazines, and such. The book club is sooo fun that I have no choice but to make it happen. Just gotta finesse the team and game schedule. Works out really well.
Posted: July 11, 2019