El Gran Combo Virtual Author Panel to Feature Carolina De Robertis via Crowdcast (9/1)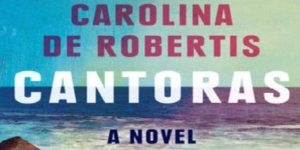 Carolina De Robertis, author of CANTORAS (Vintage), will be featured on the El Gran Combo, a virtual author panel hosted by Duende District Bookstore and Loyalty Bookstores via Crowdcast on Tuesday, September 1 at 6:00pm (ET).
CANTORAS is a portrait of queer love, community, forgotten history, and the strength of the human spirit. In defiance of the brutal military government that took power in Uruguay in the 1970s, and under which homosexuality is a dangerous transgression, five women miraculously find one another—and, together, an isolated cape that they claim as their own. Over the next thirty-five years, they travel back and forth from this secret sanctuary, sometimes together, sometimes in pairs, with lovers in tow
or alone. Throughout it all, they will be tested repeatedly—by their families, lovers, society, and one another—as they fight to live authentic lives.
Carolina De Robertis, a writer of Uruguayan origins, is also the author of The Gods of Tango, Perla, and the international bestseller, The Invisible Mountain. Her novels have been translated into seventeen languages and have garnered a Stonewall Book Award, Italy's Rhegium Julii Prize, and numerous other honors. A recipient of a National Endowment for the Arts Fellowship, she is also a translator of Latin American and Spanish literature, and editor of the anthology Radical Hope: Letters of Love and Dissent in Dangerous Times. In 2017, the Yerba Buena Center for the Arts named De Robertis to its 100 List of "people, organizations, and movements that are shaping the future of culture." She teaches at San Francisco State University and lives in Oakland, California, with her wife and two children.
!! As a reminder, if you are posting to a personal or other non-PRH account you must include the hashtag #TeamPRH !!
Posted: August 29, 2020