Elda Rotor Promotes and Presents Penguin Classics in the Philippines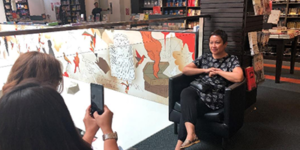 The dynamic international reach of Penguin Classics was on full display when Elda Rotor, Vice President, Publisher, Penguin Classics, presented all aspects of the brand and its books at a two-day series of events in the Philippines. She worked closely with Penguin Random House International sales reps Honey De Peralta and Jenny Javier, who helped shape a wonderfully diverse schedule of events and media interviews, including an article, "Philippine Titles Now Penguin Classics," by Neni Sta. Romana-Cruz of the Philippine Daily Inquirer.
Rotor says, "Having the opportunity to speak with local publishers, educators, students, writers and book lovers in the Philippines was an enriching experience, both professionally and personally. The warm welcome for Penguin Classics was great from both new readers and devoted Classics enthusiasts, some of whom are the best collectors of our books out there."
Elda's activities in Manila included: a visit to the Fully-Booked BGC flagship store, where she checked out the "Discarded Romance" sculpture and Penguin Classics section; a talk, "Trends in Literary & Academic Publishing: The Penguin Classics Experience," at a special event spearheaded by the National Book Development Board (NBDB), in partnership with the Book Development Association of the Philippines (BDAP), with about 100 guests attending; a talk at Manila House, an exclusive club (it's so exclusive, Elda had a hard time finding the secret entrance!), where she was joined by her family; a talk at Xavier School, organized by National Book Store, with around
250 students and 20 faculty/administrators in attendance; a talk at National Book Store, in Shangri-la Mall, where she announced the launch of a new Penguin Classics High School Essay Contest for the Philippines market in partnership with National Bookstore. After the live announcement, National's marketing team posted the contest on their Facebook page. To date, National's Facebook announcement has 1.8K likes and over 500 shares.
Posted: August 1, 2019