Election-Day Opening: THE FRONT RUNNER, the Film Adaptation of Matt Bai's ALL THE TRUTH IS OUT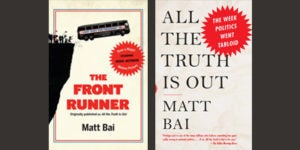 THE FRONT RUNNER, the new film starring Hugh Jackman, based on Matt Bai's Vintage book, ALL THE TRUTH IS OUT: The Week Politics Went Tabloid, opens in theaters nationwide today, November 6, Election Day.  Chronicling the promising rise and rapid fall of Colorado Senator Gary Hart as a U.S. presidential candidate, the book and film present a tour de force portrait of the American way of politics at the highest level, deepening our understanding of how we elect our presidents and how the bedrock of American values has shifted under our feet.  
In May 1987,  Senator Hart—a dashing, reform-minded Democrat—seemed a lock for the party's presidential nomination and led George H. W. Bush by double digits in the polls. Then, in one tumultuous week, rumors of marital infidelity and a newspaper's stakeout of Hart's home resulted in a media frenzy the likes of which had never been seen before.  The Hart affair not only doomed his political career, but turned out to be far more than one man's tragedy: it marked a crucial turning point in the ethos of political media, and the new norms of life in the public eye.
THE FRONT RUNNER director Jason Reitman told The Hollywood Reporter: "The Gary Hart scandal was a moment in which tabloid journalism drove into the lane of political journalism. It's a moment where we asked, 'What is public life? What is private life?' And I can't imagine a time more than 2018 in which we're talking about those things more."
Matt Bai, who co-wrote the screenplay with Reitman and Jay Carson, says, "I've always felt like different venues require different kinds of storytelling. I'm a student of format and I find each one fascinating in its own way, so I never had any illusion that we were just going to take the book and put it on the screen"
Bai adds, "It's an unusual movie because it's not a message movie — it doesn't tell you what to think. It provokes people to leave the theater debating each other about the decisions that are made on the screen."
Watch the trailer:
Posted: November 6, 2018