Elizabeth Kolbert Explores "UNDER A WHITE SKY: The Nature of the Future" via Freelibrary.org (2/10)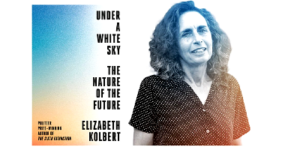 Elizabeth Kolbert, UNDER A WHITE SKY: The Nature of the Future (Crown), will discuss her new book in conversation with Tracey Matisak, at a virtual event hosted by the Free Library of Philadelphia via freelibrary.org on Wednesday, February 10 at 7:30 pm (ET). To register, click here.
The Pulitzer Prize–winning author of The Sixth Extinction returns to humanity's transformative impact on the environment, now asking: After doing so much damage, can we change nature, this time to save it?
In UNDER A WHITE SKY, Kolbert takes a hard look at the new world we are creating. Along the way, she meets biologists who are trying to preserve the world's rarest fish, which lives in a single tiny pool in the middle of the Mojave; engineers who are turning carbon emissions to stone in Iceland; Australian researchers who are trying to develop a "super coral" that can survive on a hotter globe; and physicists who are contemplating shooting tiny diamonds into the stratosphere to cool the earth.
Elizabeth Kolbert is the author of Field Notes from a Catastrophe: Man, Nature, and Climate Change and The Sixth Extinction, for which she won the Pulitzer Prize. For her work at The New Yorker, where she's a staff writer, she has received two National Magazine Awards and the Blake-Dodd Prize from the American Academy of Arts and Letters. She lives in Williamstown, Massachusetts, with her husband and children.
!! As a reminder, if you are posting to a personal or other non-PRH account you must include the hashtag #TeamPRH !!
Posted: February 8, 2021