Ellen DeGeneres's Picture Book LITTLE ELLEN Coming From RHCB in May 2022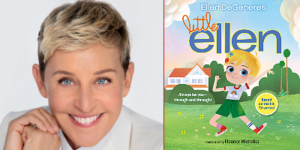 Emmy Award–winning talk show host, comedian, actress, and entertainment pioneer Ellen DeGeneres will publish a picture book based on the animated TV series of the same name, it was announced by Barbara Marcus, President and Publisher, Random House Children's Books.
LITTLE ELLEN is inspired by the author's childhood adventures as a little girl destined for big things and will be released with a print run of 250,000 on May 3, 2022, from Random House Books for Young Readers. Eleanor Michalka will illustrate. Marcus acquired World Rights from Esther Newberg at ICM for the author. Sara Sargent, Senior Executive Editor, will edit the project.
LITTLE ELLEN features characters from the new animated show Little Ellen by Warner Bros. Animation. The first season is now available to stream on Cartoonito, WarnerMedia Kids & Family's new preschool block on HBO Max. To view a trailer of the Little Ellen show, click here.
In the LITTLE ELLEN picture book, families will be introduced to a lively and cheerful seven-year-old Ellen. Little Ellen loves many things, like making people laugh, dancing, and asking questions—and she has SO MANY questions! One question that stumps her: "What makes me me?" With her Gramsy and her friends, Ellen discovers what means the most to her, all while encouraging young readers to do the same and be true to themselves: "Take what you love; hold it tight. It'll color your heart for the rest of your life." With the humor and curiosity that has made Ellen DeGeneres a household name, LITTLE ELLEN is a joyful book that promotes empathy, social-emotional learning, and individuality.
"LITTLE ELLEN is the kind of story we all need right now," says Sargent, "one that reminds us to help others and to be our authentic selves, and celebrates what makes each of us unique."
Ellen DeGeneres is a stand-up comedian, actress, winner of multiple Emmy Awards, writer, and host of the wildly popular and critically acclaimed talk show The Ellen DeGeneres Show. She has won a Peabody Award, twenty-four People's Choice Awards, making her the most decorated honoree, and multiple Producers Guild Awards for Outstanding Variety Television Show. She was the second recipient of the Carol Burnett Award at the Golden Globe Awards since it was bestowed upon its namesake, Carol Burnett.
Eleanor Michalka is an artist based in Los Angeles. She is currently an art director at Netflix Animation. Her past work has been primarily on animated TV series such as The Midnight Gospel, Amphibia, Gravity Falls, Steven Universe, and Little Ellen. She is a native Texan and a lover of nature.
Posted: September 15, 2021