Elliot Ackerman to Discuss His Latest Novel via Facebook Live (6/4)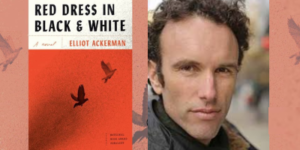 Elliot Ackerman, whose latest novel is RED DRESS IN BLACK AND WHITE (Knopf), will be featured in a Winthrop Public Library virtual event via Facebook Live on Thursday, June 4 at 8:30pm (ET).
RED DRESS IN BLACK AND WHITE is set against the Gezi Park protests in Turkey, where Ackerman spent many years living, and reporting. The narrative unfolds over the course of a single day in Istanbul: the story of an American woman attempting to leave behind her life in Turkey–to leave without her husband.
Ackerman is the author of the novels Red Dress In Black and White, Waiting for Eden, Dark at the Crossing, Green on Blue, and the forthcoming 2034, as well as the memoir Places and Names: On War, Revolution and Returning. His books have been nominated for the National Book Award, the Andrew Carnegie Medal in both fiction and nonfiction, and the Dayton Literary Peace Prize. His writing often appears in Esquire, TIME Magazine, and The New York Times, where he is a contributing opinion writer, and his stories have been included in The Best American Short Stories and The Best American Travel Writing. He is both a former White House Fellow and Marine, and served five tours of duty in Iraq and Afghanistan, where he received the Silver Star, the Bronze Star for Valor, and the Purple Heart. He divides his time between New York City and Washington, D.C.
!! As a reminder, if you are a PRH employee posting to a personal or other non-PRH account, you must include the hashtag #TeamPRH !! 
Posted: June 3, 2020