Emily St. John Mandel Gives a Virtual Tour of THE GLASS HOTEL via Crowdcast (4/14)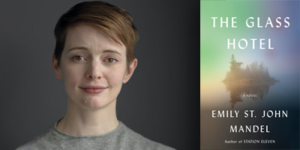 Emily St. John Mandel will open windows into her latest novel THE GLASS HOTEL (Knopf), with a reading, discussion and audience Q&A, during a Harved Book Store Crowdcast Event on Tuesday, April 14, 7:00pm (ET).
Set at the glittering intersection of two seemingly disparate events – a massive Ponzi scheme collapse and the mysterious disappearance of a woman from a ship at sea – THE GLASS HOTEL is a captivating portrait of greed and guilt, love and delusion, ghosts and unintended consequences, and the infinite ways we search for meaning in our lives.
Emily St. John Mandel's four previous novels include Station Eleven, which was a finalist for a National Book Award and the PEN/Faulkner Award and has been translated into thirty-two languages. She lives in New York City with her husband and daughter.
!!A reminder for PRH employees: If you are posting this article to a personal or other non-PRH account you must include the hashtag #TeamPRH.!!
Posted: April 13, 2020