Emma Rous Introduces "The Perfect Guests" – or Are They?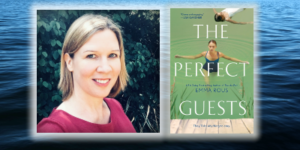 Our new Igloo Book Buzz selection is Emma Rous' THE PERFECT GUESTS, published this week by Berkley. Imagine a grand English estate with many secrets, an orphan caught in a web of lies, and a young woman playing a sinister game. Ms. Rous offers insights into the creation of her twisty suspense thriller: "After the excitement of having my debut published, the prospect of writing a second novel felt distinctly daunting, and I suspect I'd still be wrestling with it now if it wasn't for the rock solid moral support and creative input I had from my two editors – my British editor here in England, and Amanda Bergeron across the Atlantic at Berkley.
"Right from the start, I wanted to set the story in the flat, marshy region that sits just beyond my doorstep. Of course, I had no idea that by the time we were approaching the copy editing stage, all travel plans would be cancelled and my local countryside would take on a whole new significance. During the main lockdown of last summer, I spent every day out in the bleak but beautiful landscape described in my novel: walking my dog, kayaking, cycling, and sometimes even swimming in the chilly waters just like the characters I'd created. I am so thrilled that THE PERFECT GUESTS is now reaching readers around the world, and I hope it brings a touch of brightness in these tough times."
Berkley Executive Editor Amanda Bergeron comments, "Emma is such a wonderfully creative, natural storyteller and an absolute treat to work with. She, her UK editor, and I were sprinting through the final edit just as the world was shutting down last spring. We all have children and were adjusting to the new realities and balance of responsibilities, and in those uncertain days, I found such comfort and joy in our collaboration. This is a wickedly fun puzzle of a book, and I know readers will be as grateful for the smart escape as I was."
A selection of praise for THE PERFECT GUESTS:
"Clever and engaging. Rous creates the ultimate house party mystery. A room full of strangers—or are they? Whispers of an old tragedy—or is it? An elaborately plated dinner—until one by one the guests fall ill. Old secrets and new dangers collide in this deliciously thrilling tale."—Lisa Gardner, #1 New York Times bestselling author
"A richly atmospheric time-slip mystery with the pulse of a thriller, The Perfect Guests is deliciously evocative and absolutely spellbinding. Set up like a game of Clue, the story alternates between two narratives, one in the past, the other in the present, each chapter winding the tension higher as you discover the pieces you need to solve the puzzle. With vividly drawn characters, gorgeous prose, and an electric sense of place and time, I was sucked in from the very first page. [A] fun and immensely satisfying treat!"—Christina McDonald, USA Today bestselling author of Behind Every Lie
"Anyone yearning for a page-turning gothic story with a big house – and a shocking family secret at its heart – should gatecrash The Perfect Guests immediately."—Eve Chase, author of The Daughters of Foxcoate Manor
"As seductive but secretly treacherous as Raven Hall itself, this novel delivers devour-in-a-day diversion.. Rous has upped her game with this one."—Publishers Weekly
Emma Rous' debut novel was The Au Pair, a USA Today bestseller. She grew up in England, Indonesia, Kuwait, Portugal and Fiji, and from a young age she had two ambitions: to write stories, and to look after animals. She studied veterinary medicine and zoology at the University of Cambridge, and worked as a small animal veterinarian for eighteen years before starting to write fiction. Emma lives near Cambridge in England with her husband and three sons, and she now writes full time.
Posted: January 13, 2021