Employee Milestone Spotlight: Sue Grimshaw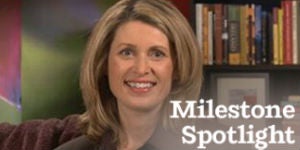 Each month, Milestone Spotlight features an interview with a recent recipient of a Penguin Random House Milestone Award, which is given out to employees who have reached 5, 10, 15, 20, 25, 30, etc. years of service with the company.  The Employee Milestone Spotlight interview allows us celebrate our colleagues' service by highlighting their successes within the company, and, is a chance for them to share some fun and personal information about themselves!
This month, we shine the spotlight on Sue Grimshaw, Category Specialist and Editor at Large, who celebrated her fifth year with the company on March 28, 2016!  Get the scoop on Sue by checking out her interview below:
Describe your role at Penguin Random House.
My title is Category Specialist and Editor at Large. I'm an acquiring editor for the digital division for the Loveswept and Flirt imprints and have also acquired for Bantam during my five years of employment.
Why did you decide to join Penguin Random House?
The first sixteen years of employment in the book industry were as romance buyer for Borders Incorporated.  A year before their closing, Scott Shannon contacted me asking if I'd be interested in working in a new division. The timing was perfect.
What is your favorite part about your job?
I love working with our team; the digital division has the best group of people. I also enjoy my authors and their amazing stories.
What would people never guess you do in your role?
In my previous job, as a book buyer, I've always been very focused on the entire vertical process of buying, marketing and selling books — good or bad, that has not changed today.  I'm forever promoting on my social media pages enticing readers to buy our books.
What is your proudest moment at Penguin Random House?
Definitely achieving my first New York Times bestseller, that's something no editor forgets.
Before working at Penguin Random House, what was the most unusual or interesting job you've ever had?
I was a cosmetic buyer for Kmart prior to Borders, and I enjoyed traveling overseas where we worked with vendors to produce cosmetic accessories. Long flights but always a great time.
What advice would you give to recent new hires?
Be passionate about what you do and be patient. Good things take time and the harder you work the more you'll achieve.
What is an ability you wish you had?
A photographic memory would be wonderful 
If you could travel anywhere in the world tomorrow, where would you go?
Australia — there is so much to see, so much that appeals to me.  It's on my bucket list.
If you were to write a book about yourself, what would you name it?
Fearless  — I'll leave it at that.
Posted: August 18, 2016