Enjoy a Fall Day at PRH Library Marketing's Bryant Park Reading Room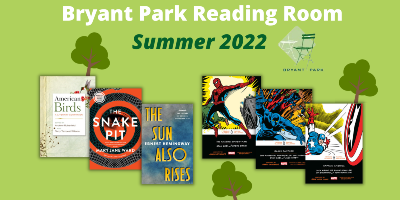 This year, Penguin Random Library Marketing team celebrated a ten year partnership with the Bryant Park Reading Room and marked the occasion with a summer event series celebrating the classics. This partnership runs through October (weather-permitting), so be sure to stop by the Reading Room and look for your favorite PRH title!
Over the last decade, the Bryant Park Reading Room has hosted many book club focused events with authors such as: Helen Ellis, Scott Snyder, Kareem Abdul-Jabbar and many, many more! This past summer was no different: with contributions from our client partner The Library of America and the team at Penguin Classics, we were able to host six book clubs featuring classic titles. We invite you to view the complete listing of this past summer's events here.
This long standing relationship with Bryant Park stands as a testament to the library marketing team's dedication to reading and literacy. During many of these events the New York Public Library staff was on hand to sign up residents for their own New York public library card, and with the help of Penguin Classics and some of our distribution partners, the book carts in the park got a refresh of hundreds of new titles. These carts serves as a free reading library for visitors of the park during the spring, summer, and fall months.
Kelly Coyle-Crivelli, Associate Director of Library Marketing, the organizer of these events says,  "Bryant Park has always been a special place for me. It's a nook in the middle of this busy city where you can find a much needed quiet moment.  You can also find live music, Bocce, ping pong, and most essentially to me, The Bryant Park Reading Room, a place dedicated to programs consistently promoting authors and literacy. We are happy to support their efforts, and to give back to an organization constantly giving back to the people of New York. Even in 2020 when nearly all events were cancelled,  the Reading Room still provided limited live programs, (which they also livestreamed), and other activities in order to provide a little comfort and happiness where there wasn't a lot to be found."
The titles featured in the 2022 This Summer Will be Classic programs were:
AMERICAN BIRDS: A LITERARY COMPANION, Edited by Andrew Rubenfeld and Terry Tempest Williams
THE SNAKE PIT, A Novel by Mary Jane Ward
THE SUN ALSO RISES: THE LIBRARY OF AMERICA CORRECTED TEXT, by Ernest Hemingway; Edited by Robert W. Trogdon
THE AMAZING SPIDER-MAN, by Stan Lee and Steve Ditko; Foreword by Jason Reynolds; Introduction by Ben Saunders; Series edited by Ben Saunders
BLACK PANTHER, by Don McGregor, Rich Buckler, Billy Graham, Stan Lee and Jack Kirby; Foreword by Nnedi Okorafor; Introduction by Qiana J. Whitted; Series edited by Ben Saunders
CAPTAIN AMERICA, by Jack Kirby, Joe Simon, Stan Lee, Jim Steranko and John Romita Sr.; Foreword by Gene Luen Yang; Introduction by Ben Saunders; Series edited by Ben Saunders
Posted: September 29, 2022