Enjoy a RH Happy Hour with John deBary via Instagram (6/12)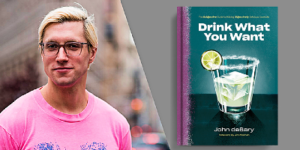 Join John deBary, author of DRINK WHAT YOU WANT (Clarkson Potter), as he demonstrates how to remix classic cocktails during a RH Happy Hour presented by Random House Virtual Events via Instagram on Friday, June 12 at 5:00pm (ET).
DRINK WHAT YOU WANT is nonjudgmental, back-to-basics approach to making custom cocktails that's as fun as it is definitive–from a renowned New York City bartender who's worked everywhere from PDT to Momofuku. Mr. deBary breaks down the science of mixology (yes, it's a science) and explains the rules of drink-making. Most important, you'll learn how to tweak any drink, both classic and creative, to your preferences and moods. Are you adventurous or traditional? Sweet or bitter? Brown liquor or clear?
Mr. deBary is a veritable cocktail expert with a 100-proof personality, a dash of fun, and garnished with flair–there's nothing muddled about him.
!! As a reminder, if you are a PRH employee posting to a personal or other non-PRH account, you must include the hashtag #TeamPRH !! 
Posted: June 11, 2020