Enjoy a Virtual Coffee with Kate Bowler on "Dealing with Uncertainty" via Instagram (4/19)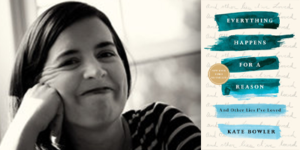 Kate Bowler, author of EVERYTHING HAPPENS FOR A REASON: And Other Lies I've Loved (Random House), will be featured on Random House's "Coffee with" virtual event, discussing "dealing with uncertainty" via Instagram on Sunday, April 19, at 11:00am (ET).
EVERYTHING HAPPENS FOR A REASON, What does it mean to die, she wonders, in a society that insists everything happens for a reason? Kate is stripped of this certainty only to discover that without it, life is hard but beautiful in a way it never has been before. Frank and funny, dark and wise, Kate pulls the reader deeply into her life in an account she populates affectionately with a colorful, often hilarious retinue of friends, mega-church preachers, relatives, and doctors. She tells her story, offering up her irreverent, hard-won observations on dying and the ways it has taught her to live.
Bowler is an assistant professor at Duke Divinity School. A graduate of Yale Divinity School and Duke University, she is also the author of BLESSED A History of the American Prosperity Gospel. She lives in North Carolina with her husband and son.
!!A reminder for PRH employees: If you are posting this article to a personal or other non-PRH account you must include the hashtag #TeamPRH.!!
Posted: April 17, 2020