Enjoy the Well-Read Black Girl Festival Virtually This Week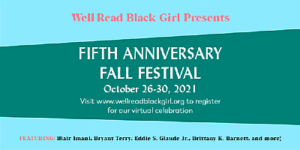 The fifth annual Well-Read Black Girl Festival, hosted by Glory Edim, Well-Read Black Girl founder and Ballantine author, takes place virtually via Crowdacst and Instagram, October 26 – 30. This year's event celebrates five years of shining a light on BLACK BRILLIANCE, GIRLHOOD, MOTHERHOOD, SISTERHOOD, and FREEDOM.
Among the festival sponsors is 4 Color Books, Bryant Terry's Ten Speed Press imprint.
For more details, a complete schedule of events, and to register, click here.
In addition to Ms. Edim, featured Penguin Random House authors include Brittany Barnett (A Knock at Midnight, Crown); Candice Marie Benbow (Red Lip Theology, Convergent); Keisha N. Blain (Four Hundred Souls, One World); Eddie S. Glaude Jr. (Begin Again, Crown); Marita Golden (Migrations of the Heart, among many titles, Anchor); Farah Jasmine Griffin (If You Can't Be Free, Be a Mystery, One World); Minda Harts (You Are More Than Magic, Dial Books for Young Readers); Blair Imani (Read This to Get Smarter, Ten Speed Press); Reverend Jacqui Lewis (Fierce Love, Harmony); Regina Porter (The Travelers, Hogarth); Heather McGhee (The Sum of Us, One World); Tiya Miles (All That She Carried, Random House); Cole Arthur Riley (This Hear Flesh, Convergent); Bryant Terry (Black Food, 4 Color Books); R Eric Thomas (Here for It, Ballantine); and Nicola Yoon (The Sun is Also a Star, Delacorte Press).
"When I launched the first Well-Read Black Girl Festival in 2017," says Glory Edim. "I didn't realize that I was embarking on a mission to reconnect to my younger self. The urge I had to pull other women close in the name of literature, to discuss how we read piles of books as children, and finding new language to speak about those books and more contemporary ones as adults — I was gathering the memories of my childhood and creating a community."
Ms Edim adds, "When we gather – whether in-person or virtually – it's a model for belonging. Our small but mighty team is striving to build safe, creative spaces filled with love and care for others. We are collectively reading and transforming ourselves with every book, with every tender exchange of truth & vulnerability."
Posted: October 26, 2021