Erik Larson and Christina Baker Kline In Conversation about THE SPLENDID AND THE VILE via Crowdcast (5/9)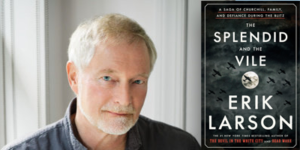 Authors Erik Larson and Christina Baker Kline will talk about Larson's new book, THE SPLENDID AND THE VILE (Crown), in a virtual event hosted by Watchung Booksellers via Crowdcast ($10 through PayPal to "attend;" register here) on Saturday, May 9, at 3:00pm (ET).
THE SPLENDID AND THE VILE takes readers out of today's political dysfunction and back to a time of true leadership. On Winston Churchill's first day as prime minister, Adolf Hitler invaded Holland and Belgium. Poland and Czechoslovakia had already fallen, and the Dunkirk evacuation was just two weeks away. For the next twelve months, Hitler would wage a relentless bombing campaign, killing 45,000 Britons. In the face of unrelenting horror, Churchill's eloquence, courage, and perseverance bound a country, and a family, together.
Erik Larson is also the author of five national bestsellers: Dead Wake, In the Garden of Beasts, Thunderstruck, The Devil in the White City, and Isaac's Storm, which have collectively sold more than nine million copies.
As a reminder, if you are a PRH employee posting to a personal or other non-PRH account, you must include the hashtag #TeamPRH !! 
Posted: May 8, 2020