Erik Larson Reveals Jacket for His Upcoming Book THE SPLENDID AND THE VILE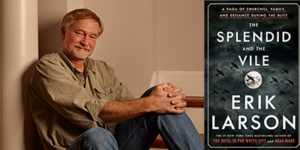 Erik Larson has revealed the jacket for his next book, THE SPLENDID AND THE VILE: A Saga Of Churchill, Family, and Defiance During the Blitz, scheduled to be published by Crown on March 3, 2020.
In THE SPLENDID AND THE VILE, Larson exhibits his acclaimed storytelling skills as he brings to life one of the most important political figures of the 20th century—Winston Churchill—during his first year as prime minister, when Britain faced the gravest threat of its history. The narrative begins with Churchill's appointment as prime minister on May 10, 1940, the day Hitler invaded Holland and Belgium; it ends exactly one year later on May 10, 1941, with the last and most ferocious night of the Blitz, a night of Vonnegutian violence and extraordinary family drama, capped by the bizarre arrival on British soil, by parachute, of Hitler's closest deputy. A story of political brinksmanship, the book also portrays an
intimate domestic drama, set in locales ranging from the prison room at the prime-ministerial country house, Chequers; to London's palace of innuendo, the Dorchester Hotel; and of course to 10 Downing Street and the fortified Cabinet War Rooms. Using a wealth of untapped sources, including declassified files, intelligence reports, and newly available diaries, Larson provides a new lens on London's darkest year through the day-to-day experience of Churchill and his family—his wife, Clementine; their young daughter Mary; their son, Randolph, and his beautiful, unhappy wife, Pamela—and the cadre of close advisors who comprised Churchill's "Secret Circle," including his closest friend, newspaper baron Lord Beaverbrook, known to some as the "Minister of Midnight."
THE SPLENDID AND THE VILE  promises to take readers out of today's political dysfunction and back to a time of true leadership, when Churchill's eloquence and perseverance bound a country together in the face of unrelenting horror, and taught Britons everywhere the art of being fearless.
Erik Larson is the author of five national bestsellers, DEAD WAKE, IN THE GARDEN OF BEASTS, THUNDERSTRUCK, THE DEVIL IN THE WHITE CITY, and ISAAC'S STORM, which have collectively sold more than 9 million copies worldwide.
Posted: September 5, 2019