Erika Robuck to Discuss THE INVISIBLE WOMAN via Zoom (2/17)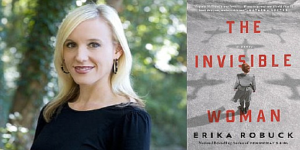 Join Warwick's for a virtual event with Erika Robuck in conversation with Lee Woodruff. They will be discussing Robuck's latest novel, THE INVISIBLE WOMAN (Berkley) via Zoom on Wednesday, February 17 at 7:00 pm (ET).
THE INVISIBLE WOMAN is a gripping historical novel based on the remarkable true story of World War II heroine Virginia Hall. In France, March, 1944, Hall wasn't like the other young society women back home in Baltimore—she never wanted the debutante ball or silk gloves. Instead, she traded a safe life for adventure in Europe, and when her beloved second home is thrust into the dark days of war, she leaps in headfirst. Once she's recruited as an Allied spy, subverting the Nazis becomes her calling. But even the most cunning agent can be bested, and in wartime trusting the wrong person can prove fatal. Virginia is haunted every day by the betrayal that ravaged her first operation, and will do everything in her power to avenge the brave people she lost.
Erika Robuck is the national bestselling author of Receive Me Falling, Hemingway's Girl, Call Me Zelda, Fallen Beauty, and The House of Hawthorne. She is a contributor to the anthology Grand Central: Original Stories of Postwar Love and Reunion and to the Writer's Digest essay collection, Author in Progress. In 2014, Robuck was named Annapolis' Author of the Year, and she resides there with her husband and three sons.
!! As a reminder, if you are posting to a personal or other non-PRH account you must include the hashtag #TeamPRH !!
Posted: February 11, 2021