Esi Edugyan's Novel WASHINGTON BLACK Being Adapted for a Hulu Series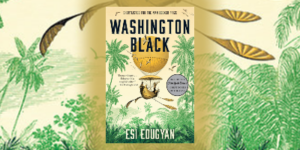 Esi Edugyan's WASHINGTON BLACK (Knopf/Vintage) is being adapted for a nine-episode Hulu series. Emmy and Golden Globe Award -winning actor Sterling K. Brown (This Is Us) has been tabbed to star and serve as an executive producer. Selwyn Seyfu Hinds will write the adaptation and is also an executive producer. Edugyan will be a co-producer on the series, which will be produced by 20th Television.
"Washington Black inspires me!" said Mr. Brown. "This young man and the adventure he undertakes remind me of how the power of imagination and the creativity of artistry can transform the world in which we live. Selwyn Seyfu Hinds has taken the transcendent words of Esi Edugyan and created a spectacular universe that brings to fruition the power of possibility."
Winner of the 2018 Scotiabank Giller Prize, WASHINGTON BLACK follows the 19th-century adventures of George Washington "Wash" Black. A field slave on a Barbados sugar plantation, Wash is initially terrified when he is chosen as the manservant of his master's brother. To his surprise, however, the eccentric Christopher Wilde turns out to be a naturalist, explorer, inventor, and abolitionist. Soon Wash is initiated into a world where a flying machine can carry a man across the sky, where even a boy born in chains may embrace a life of dignity and meaning, and where two people, separated by an impossible divide, can begin to see each other as human. Spanning the Caribbean to the frozen Far North, London to Morocco, WASHINGTON BLACK is a story of self-invention and betrayal, of love and redemption, and of a world destroyed and made whole again.
Posted: October 8, 2021