Esther Safran Foer and Keith Gessen Hold a Virtual Conversation via Zoom (4/30)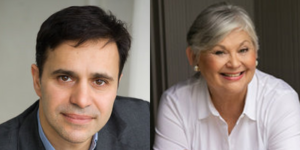 Co-presented by the Jewish Book Council, the Jewish Museum, and Tablet Magazine, Esther Safran Foer, author of I WANT YOU TO KNOW WE'RE STILL HERE: A Post-Holocaust Memoir (Tim Duggan Books), and Keith Gessen, author of A TERRIBLE COUNTRY (Penguin Books), are featured in a virtual conversation with Stephanie Butnick of Tablet Magazine via Zoom on Thursday, April 30 at 7:00pm (ET).
I WANT YOU TO KNOW WE'RE STILL HERE is the poignant and deeply moving story not only of Esther Safran Foer 's journey but of four generations living in the shadow of the Holocaust. They are four generations of survivors, storytellers, and memory keepers, determined not just to keep the past alive but to imbue the present with life and more life.
A TERRIBLE COUNTRY, a wise, sensitive novel about Russia, exile, family, love, history and fate, asks what you owe the place you were born, and what it owes you. Writing with grace and humor, Gessen gives readers a brilliant and mature novel that is sure to mark him as one of the most talented novelists of his generation.
Foer was the CEO of Sixth & I, a center for arts, ideas, and religion. She lives in Washington, D.C., with her husband, Bert. They are the parents of Franklin, Jonathan, and Joshua, and the grandparents of six.
Gessen is the author of A Terrible Country, All the Sad Young Literary Men and a founding editor of n+1. He is the editor of three nonfiction books and the translator or co-translator, from Russian, of a collection of short stories, a book of poems, and a work of oral history, Nobel Prize-winner Svetlana Alexievich's Voices from Chernobyl. A contributor to The New Yorker and The London Review of Books, Gessen teaches journalism at Columbia and lives in New York with his wife and sons.
!!A reminder for PRH employees: If you are posting this article to a personal or other non-PRH account you must include the hashtag #TeamPRH.!!
Posted: April 29, 2020