Esther Safran Foer In Conversation with Jonathan Safran Foer via Zoom (5/21)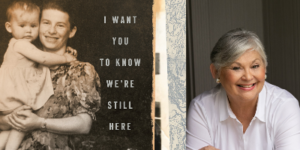 Esther Safran Foer, author of I WANT YOU TO KNOW WE'RE STILL HERE: A Post-Holocaust Memoir (Tim Duggan Books), will be in conversation about her book with her son, author Jonathan Safran Foer, at a virtual event hosted by the Museum of Jewish Heritage via Zoom on Thursday, May 21, at 7:00pm (ET).
WANT YOU TO KNOW WE'RE STILL HERE is the poignant and deeply moving story not only of Esther Safran Foer 's journey but of four generations living in the shadow of the Holocaust. They are four generations of survivors, storytellers, and memory keepers, determined not just to keep the past alive but to imbue the present with life and more life.
Esther Safran Foer was the CEO of Sixth & I, a center for arts, ideas, and religion. She lives in Washington, D.C., with her husband, Bert. They are the parents of Franklin, Jonathan, and Joshua, and the grandparents of six.
Jonathan Safran Foer is the author of the novels Everything Is Illuminated, Extremely Loud and Incredibly Close, Here I Am, and the nonfiction book Eating Animals. His work has received numerous awards and been translated into thirty-six languages. He lives in Brooklyn, New York.
!! As a reminder, if you are a PRH employee posting to a personal or other non-PRH account, you must include the hashtag #TeamPRH !! 
Posted: May 20, 2020