Exclusive Excerpt from Barack Obama's A PROMISED LAND Featured in The New Yorker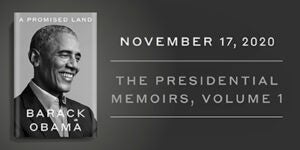 The New Yorker has released an exclusive first serial excerpt from Barack Obama's A PROMISED LAND as the lead story in its November 2 edition, on newsstands today, October 26. In the excerpt, "The Health of a Nation," President Obama tells the story behind the ferocious battle over his most transformative piece of legislation, the Affordable Care Act. To read the excerpt, click here.
A PROMISED LAND will be published in the United States and Canada in hardcover and digital formats by Crown, an imprint of the Random House Publishing Group, on Tuesday, November 17, and will be issued simultaneously in 25 languages. An unabridged audio edition of the book, read by the author, will be simultaneously released in digital and physical formats by Penguin Random House Audio. A Spanish language edition will also be available, published as UNA TIERRA PROMETIDA.
Posted: October 26, 2020