FALASTIN: Palestinian Culture to Absorb, Flavorful Recipes to Try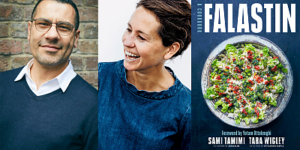 Home cooking has become the accepted norm for most of us since the middle of March. Looking for a way to spice up your menu? There are 120 easy-to-prepare recipes in FALASTIN, published by Ten Speed Press, presenting a soulful tour of Palestinian cooking today from the Ottolenghi restaurants' executive chef Sami Tamimi and partner Tara Wigley. Named after the Palestinian newspaper that brought together a diverse people, FALASTIN is a vision of a cuisine, a culture, and a way of life as experienced by one influential chef.
Ten Speed Press SVP & Editor-in-Chief Lorena Jones, shared, "It's not that often we can describe a cookbook as 'powerful,' but that's apt for Sami Tamimi's and Tara Wigley's FALASTIN. This book is packed with human stories that move you, descriptions of places that transport (when we need it most), and recipes that beg regular rotation. The texture, resourcefulness, and generosity of Tamimi's native culture emanate from every page. Along with project editor Emma Rudolph, production editor Doug Ogan, creative director and cover designer Kelly Booth, and production manager Jane Chinn, Tamimi and Wigley created a very special book."
The story of Palestine's food is really the story of its people. When the events of 1948 forced residents from all regions of Palestine together into one compressed land, recipes that were once closely guarded family secrets were shared and passed between different groups in an effort to ensure that they were not lost forever.
In FALASTIN (pronounced "fa-la-steen"), Tamimi retraces the lineage and evolution of his country's cuisine, born of its agriculturally optimal geography, its distinct culinary traditions, and Palestinian cooks' ingenuity and resourcefulness. From refugee-camp cooks to the home kitchens of Gaza and the mill of a master tahini maker, the master chef teases out the vestiges of an ancient culinary tradition as he records the derivations of a dynamic cuisine and people.
Featured FALSTIN Recipe
Chicken Musakhan
(Serves four)
Musakhan is the hugely popular national dish of Palestine. Growing up, Sami ate it once a week, pulling a piece of chicken and sandwiching it between a piece of pita or flatbread. It's a dish to eat with your hands and with your friends, served from one pot or plate, for everyone to then tear at some of the bread and spoon on the chicken and topping for themselves. Traditionally, musakhan was made around the olive oil pressing season in October or November to celebrate (and gauge the quality of) the freshly pressed oil. The taboon bread would be cooked in a hot taboon oven lined with smooth round stones, to create small craters in the bread in which the meat juices, onion, and olive oil all happily pool. Musakhan is cooked year-round, nowadays, layered with store-bought taboon or pita bread, and is a dish to suit all occasions—easy and comforting enough to be the perfect weeknight supper as it is, but also special enough to stand alongside other dishes at a feast.
Playing around: The chicken can be replaced with thick slices of roasted eggplant or chunky cauliflower florets, if you like (or a mixture of both), for a vegetarian alternative. If you do this, toss the slices or florets in the oil and spices, as you do the chicken, and roast at 425°F for about 25 minutes for the cauliflower and about 35 minutes for the eggplant.
Ingredients
1 chicken (about 3¾ lb/1.7kg), cut into 4 pieces (3 lb/1.4kg), or 2 lb 2 oz/1kg chicken breasts with the wing-tips left on (between 4 and 6, depending on size), skin on, if you prefer.
½ cup/120mlolive oil, plus 2 or 3 tbsp1 tbsp ground cumin3 tbsp sumac
½ tsp ground cinnamon½ tsp ground allspice Salt and black pepper
¼ cup/30g pine nuts3 large red onions, thinly sliced
⅛inch/3mm thick (mounded 4 cups/500g)
4 taboon breads, or any flatbread (such as Arabic flatbread or naan bread; ¾ lb/330g)
¼ cup/5g parsley leaves, roughly chopped
1¼ cups/300g Greek yogurt1 lemon, cut into wedges
Cooking Directions
Preheat the oven to 425°F. Line a rimmed baking sheet with parchment paper, and line a bowl with paper towels.
Place the chicken in a large mixing bowl with 2 tbsp of oil, 1 tsp of cumin, 1½ tsp of sumac, the cinnamon, allspice, 1 tsp of salt, and a good grind of black pepper. Mix well to combine, then spread out on the prepared baking sheet. Roast until the chicken is cooked through. This will take about 30 minutes if starting with breasts, and up to 45 minutes if starting with the whole chicken, quartered. Remove from the oven and set aside. Don't discard any juices that have collected in the pan.
Meanwhile, put 2 tbsp of oil into a large sauté pan, about 10 inches/25cm, and place over medium heat. Add the pine nuts and cook for 2–3 minutes, stirring constantly, until the nuts are golden brown. Transfer to the prepared bowl (leaving the oil behind in the pan) and set aside. Add the remaining ¼ cup/60ml of oil to the pan, along with the onions and ¾ tsp of salt. Return to medium heat for about 15 minutes, stirring from time to time, until the onions are completely soft and pale golden but not caramelized. Add 2 tbsp of sumac, the remaining 2 tsp of cumin, and a grind of black pepper and mix well, until the onions are completely coated. Remove from the heat and set aside.
When ready to assemble the dish, preheat the broiler and slice or tear the bread into fourths or sixths. Place under the broiler for 2–3 minutes, to crisp up, then arrange on a large platter. Top the bread with half the onions, followed by all the chicken and any chicken juices left in the pan. Either keep each piece of chicken as it is or roughly shred it, into two or three large chunks, as you plate up. Spoon the remaining onions over the top and sprinkle with the pine nuts, parsley, remaining 1½ tsp of sumac, and a final drizzle of olive oil. Serve at once, with the yogurt and lemon wedges alongside.
Posted: July 26, 2020