Family Secrets Podcast Hosted by Author Dani Shapiro Crosses 1 Million Downloads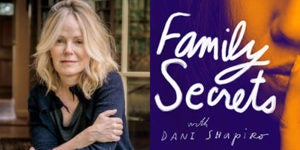 Family Secrets, a podcast hosted by Knopf and Vintage author Dani Shapiro, developed in partnership with How Stuff Works and PRH's Author Platforms team, has reached 1.1 million downloads just six weeks after its release. On the podcast, Shapiro shares stories of guests who have discovered long-hidden secrets in their families. "It is a program," says Shapiro, "about secrets that are kept from us, secrets we keep from each other, and the secrets we keep from ourselves."
The podcast draws on Shapiro's own experience with a family secret, recounted in her memoir, INHERITANCE. In the spring of 2016, after submitting her DNA to a genealogy website for analysis, Shapiro discovered that she was not biologically related to her father. She woke up one morning to find her entire past had been changed. The book, published in January, was an instant New York Times bestseller and now has over 50,000 copies in print. It is also available from Penguin Random House Audio, read by Shapiro. INHERITANCE has been described as "beautifully written and deeply moving" (New York Times Book Review), "an emotional detective story" (NPR) and "a profound and exquisitely rendered exploration of identity and the true meaning of family (People Magazine).
Family Secrets was conceived as a complement to INHERITANCE. The first season wraps up on April 4, but special bonus content, including a live show, are planned for later this spring and summer. Shapiro continues to tour nationwide for her book, with upcoming appearances at the PEN World Voices Festival, Aspen Ideas Festival and Sun Valley Writers Conference. And the PRH Speakers Bureau has also booked her for the keynote address at the International Association of Privacy Professionals' Global Summit in May.
You can subscribe to Family Secrets on Apple Podcasts, the iHeartRadio app, or wherever you listen to podcasts.
Posted: March 28, 2019