Fanny Singer Shares Recipes and Stories on Instagram Live (4/10)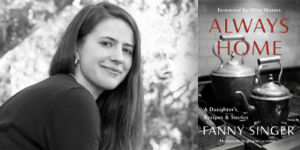 Fanny Singer will be in conversation with food writer Tamar Adler about ALWAYS HOME: A Daughter's Recipes & Stories (Knopf), a cookbook and culinary memoir about growing up as the daughter of revered chef/restaurateur Alice Waters, via Books Are Magic Instagram Live (@booksaremagic) on Friday, April 10, at 7:00pm (ET).
Across dozens of vignettes with accompanying recipes, Singer shares the story of her own culinary coming of age and reveals a side of her legendary mother that has never been seen before. A charming, smart translation of Alice Waters's ideals and attitudes about food for a new generation, ALWAYS HOME is a loving, often funny, unsentimental, and exquisitely written look at a life defined in so many ways by food, as well as the bond between mother and daughter.
Fanny Singer is a writer, editor, and co-founder of the design brand, Permanent Collection. In 2013, she received a Ph.D. on the subject of the British pop artist Richard Hamilton's late work from the University of Cambridge. In 2015, she and her mother, Alice Waters, published My Pantry, which she also illustrated. Having spent more than a decade living in the United Kingdom, Fanny recently moved back to her native California. Based in San Francisco, she travels widely, contributing art reviews and culture writing to a number of publications including Frieze, The Wall Street Journal Magazine, Apartamento, T Magazine, and Art Papers, among others.
!!A reminder for PRH employees: If you are posting this article to a personal or other non-PRH account you must include the hashtag #TeamPRH.!!
Posted: April 9, 2020