Farewell and Thank You from Our 2016 Summer Interns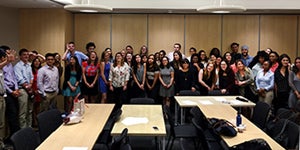 As the summer winds down, I'm not only bidding farewell to the warm weather and Central Park strolls, but to an incredible internship experience as well. As an  intern in Corporate Communications, I am grateful to have been given the opportunity to get to know an amazing department. From working on news posts for Igloo, to going through the submissions of the High School Creative Award recipients, I was always eager for the projects that awaited me. I loved knowing that I was surrounded by people who share my same passion for creativity, and of course the scent of a new book. Being a part of the Penguin Random House internship program has allowed me and the other interns to truly immerse ourselves in the publishing process. Thanks to the Brown Bag Lunches and networking events, we all feel more confident than ever to go out there and strive for our future careers. To show our gratitude, some of the interns have shared their experiences. Thank you for a fun and unforgettable internship, Penguin Random House employees. This summer was one for the books (pun-intended)! – Carolyn Garcia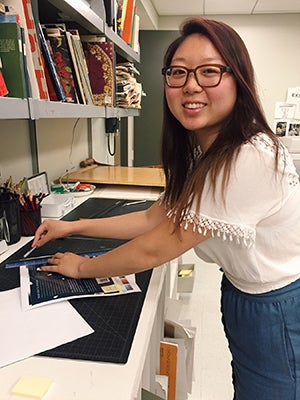 Name: Annette Lee                                       Department: Knopf  Art & Design
What kind of projects did you work on?
Mainly, designers would make a book cover and I would design the back cover, spine and flaps of books. It was challenging because I had to design everything based on the front cover, asking myself, "What would the designer have done?" Nevertheless, it was fun, and such a privilege. It is still so surreal to think my designs are going to be on actual books sold to the public!! That feeling will never get old. Additionally, I was in charge of the Instagram posts for knopfjackets. (It is our new instagram, go follow!!)
What did you enjoy the most about this internship?
I enjoyed the atmosphere and people the most. Everyone is so welcoming and nice the minute you enter the building. There is a very relaxed and cozy feeling that everyone radiates, and I love it. My many mentors were no exception of course, they were the nicest people ever! Always willing to help and see how I was doing. They were so patient and trusted me to do the projects, so I could learn from experience. It was a wonderful and positive environment, in which to grow.
Favorite Memory:
My favorite memory would have to be the time I went on a photo shoot. Two mentors and I went into a filming studio and had a photo shoot with books for our Instagram page. We brought so many books that filled a huge cart. People would learn what we were doing and get excited, giving us more and more things to photograph! The pictures came out amazing, and we still use them for the Instagram.
Favorite book from the take-away shelf:                                                                                             DARK MATTER by Blake Crouch. It is a thriller about a man who travels across multi-universes. It really had me thinking about my life choices and how it affects me. Deep… Everyone go read it!
What's next for you?
I will probably cry myself to sleep on the last day at Knopf, but I will return! I was hired as a part-time designer at another imprint here: Dutton. I start there soon, so I am excited to experience more at Penguin Random House.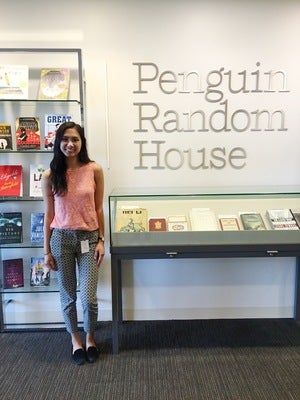 Name: Kristin Salazar                                 Department: International Finance
What kind of projects did you work on?
This summer, I researched various book publishing-business models and publishing companies.  I've also had the chance to look over Penguin Random House's strategic business plan, which sets a baseline for the company's financial status for the next few years.
What did you enjoy the most about this internship?
I loved the environment of people with diverse backgrounds and passions. Most of the students at my school are business majors, and although I can work with numbers, patterns, and financial data, I appreciate being constantly surrounded by people who are as passionate about creativity, stories, and ideas as I am..
Favorite Memory:
During a lunch break with a few other interns in Central Park, we were stopped by New York Times journalists for a video interview because we were playing Pokémon Go.
Favorite book from the take-away shelf:
I was happy to stumble upon THE LOWLAND by Jhumpa Lahiri, who wrote my favorite short story collection, "Interpreter of Maladies".
What's next for you?
I'm heading to Boston to work for a Bentley University Multicultural orientation for incoming freshmen. After that, I'll fly to Paris to begin my semester studying abroad in Rouen, France!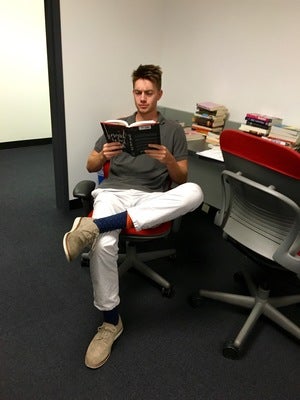 Name: Tanner Garrity                                 Department: Puffin Editorial
What kind of projects did you work on?
Puffin is a Penguin Young Readers paperback imprint, so I got to do a little bit of everything. I read manuscripts and wrote reader's reports, worked on interior and cover copy, wrote discussion questions, attended design and production meetings, helped improve the metadata for many books on our backlist, and (most importantly) helped clean the book room! My most difficult assignment, though, was coming up with taglines. Settling on five or six clever words to put on a book cover can take an entire afternoon.
What did you enjoy the most about this internship?
Easily the people. From the wonderful Dana Leydig, Editor at Puffin Books, to my fellow interns and endlessly patient coworkers, to Rob, who brushes his teeth at the same time as me in the bathroom, everyone was inviting, helpful and genuinely excited about my time here from day one. An industry full of employees really passionate about something as important as reading definitely attracts some of the best and wackiest people around.
Favorite Memory:
Tough to pick just one. The first few times I really felt like I was contributing in a big way to Puffin stand out: I wrote discussion questions for EXIT, PURSUED BY A BEAR and FISH IN A TREE; both are beautifully written novels and I really wanted to do them justice.
Favorite book from the take-away shelf:
DANNY THE CHAMPION OF THE WORLD by Roald Dahl
What's next for you?
I'm looking forward to what should be an exciting last year at Georgetown University, and then I'm hoping to get back into the publishing world for my career! I'm also working on a book in my spare time, so if that pans out, Igloo readers, you heard it here first.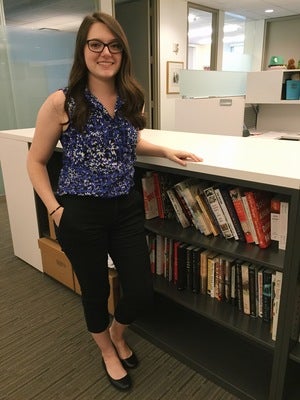 Name: Danielle Finnegan                       Department: Legal
What kind of projects did you work on?
I mainly assisted on the creation of a digital archive for the legal department. I helped collect and organize documents for this project, and added them to the online database. I also compared contracts and created a physical archive of past litigations.
What did you enjoy the most about this internship?
I've enjoyed learning about publishing from the Legal department and all the other departments that I was able to encounter. Working in publishing has been something I have wanted to do since I discovered, back in middle school, that it was an actual job. It's been an amazing experience being here, and learning about the process (and of course all the free books).
Favorite Memory:
Having lunch in Central Park with the other interns that I have been lucky enough to meet and get to know.
What's next for you?
Back to school at Rutgers in the fall for my final year. After that, I hope to be able to work full time in publishing.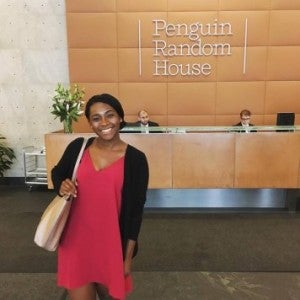 Name: Jazmin Lesane
Department: Viking Publicity
What kind of projects did you work on?
During my time at Penguin Random House, my supervisors really challenged my intern experience and gave me the chance to explore every aspect of the publicity department. For my first project, I was able to conduct independent research and reach out to hundreds of book review bloggers. In addition, I was able to write and create pitches, galley letters, and press releases for amazing summer titles, like WHEN WATCHED and THE HIKE. Oh, and of course I did lots of mailings!
What did you enjoy the most about this internship?
While I enjoyed bonding with my colleagues and fellow interns during lunch breaks, what I enjoyed the most was the respect and responsibility I was given as an intern. My department really put a lot of value and purpose behind each of my projects, which made me feel as if I was truly a full-time member of the team. Working in such an inviting environment made working very enjoyable.
Favorite Memory:
My favorite memory was definitely when I got to meet Leopolinde Core, author of WHEN WATCHED, during an author's event. Being able to see the mastermind behind a title I helped work on during the summer was incredible.
Favorite book from the take-away shelf:
Hands down DARK MATTER and THE GIRL ON THE TRAIN!
What's next for you?
After this internship, I will be returning back to Indiana to finish my last year at DePauw University, and will be completing my studies in Communications and French. After college, who knows, maybe I'll be right back here!
Posted: August 10, 2016