Featured Author Event: Adam Grant (Washington, DC)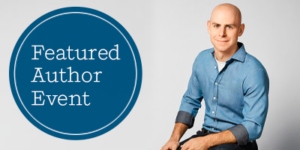 Colleagues in the Washington, D.C. area take note: Adam Grant and Allison Sweet Grant will be discussing their new book THE GIFT INSIDE THE BOX (Dial Books for Young Readers) in conversation with Daniel H. Pink on Wednesday, October 2, at a Politics & Prose event at Sidwell Friends Meeting House (3825 Wisconsin Avenue NW). The evening is themed "On Generosity" and begins at 7:00 pm. For ticket information, click here.
Adam Grant, the bestselling author of Give and Take, teams with his wife, Allison, to share their lighthearted tale of a gift in search of a giver in THE GIFT INSIDE THE BOX, illustrated by Diana Schoenbrun. In a conversational chat, Adam and Allison will talk about why and how they wrote the book, and what they've learned from psychology evidence and personal experience about how we can care for others and ourselves—and teach that value to our children.
In the pages of THE GIFT INSIDE THE BOX, a mysterious gift box finds himself in search of someone to open him, but nobody seems to be the right one. After disheartening interactions with grabby kids, selfish siblings, and other single-minded would-be recipients, the box wonders if he'll ever find someone deserving of him. Could that someone be the very person who's reading the book itself?
Posted: September 30, 2019