Featured Author Event: Amber Tamblyn (NYC)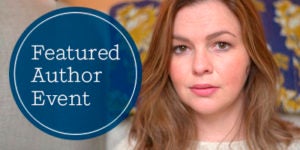 Amber Tamblyn, author, actor and director, is discussing her new Crown Archetype book, ERA OF IGNITION: Coming of Age in a Time of Rage and Revolution, at The Strand bookstore in Manhattan on Tuesday, March 5, from 7:30 to 8:30 p.m. Tamblyn will be in conversation with Cecile Richards, a national leader for women's rights and social and economic justice. For more information about this Featured Author Event, click here.
In her late twenties, Tamblyn experienced a crisis of character while trying to break out of the confines of the acting career she'd forged as a child in order to become the writer and director she dreamed of being as an adult. After a particularly low period fueled by rejection and disillusionment, she grabbed hold of her own destiny and entered into what she calls an Era of Ignition–namely, the time of self-reflection that follows in the wake of personal upheaval and leads to a call to action and positive change. In the process of undergoing this metaphysical metamorphosis, she realized that our country was going through an Era of Ignition of its own.
She writes: "No longer stuck in a past we can't outrun and a future we must outgrow, we are a nation that is actively confronting our values and agitating for change. We are in an age when activism becomes direct action, when disagreement becomes dissention, when dissatisfaction becomes protest, when accusations become accountability, and when revolts become revolutions."
An intimate meditation and public reckoning, ERA OF IGNITION is a galvanizing feminist manifesto and for everyone attempting to understand the world we live in and help change it for the better.
Amber Tamblyn has been nominated for an Emmy, Golden Globe, and Independent Spirit Award for her work in television and film, including House M.D. and Sisterhood of the Traveling Pants. Most recently, she wrote and directed the feature film Paint It Black. She is also the author of three books of poetry, including the critically acclaimed bestseller Dark Sparkler, and a novel, Any Man, as well as a contributing writer for The New York Times.
Posted: March 4, 2019