Featured Author Event: Blair Imani (Washington, D.C.)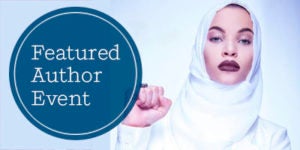 Colleagues in the vicinity of Washington, D.C. take note: Ten Speed Press author Blair Imani will be discussing her new book, MODERN HERSTORY: Stories of Women and Nonbinary People Rewriting History, during a special event @ Politics and Prose at Union Market in DC on Wednesday, November 14. Imani will be in conversation with Mia Ives-Rublee, from 7:00 to 8:00 p.m.
MODERN HERSTORY is an inspiring and radical celebration of 70 women, girls, and gender nonbinary people who have changed–and are still changing–the world, from the Civil Rights Movement and Stonewall riots through Black Lives Matter and beyond. Despite making huge contributions to the liberation movements of the last century and today, all of these trailblazers come from backgrounds and communities that are traditionally overlooked and under-celebrated: not just women, but people of color, queer people, trans people, disabled people, young people, and people of faith.
Blair Imani is a black queer American Muslim activist. She is the founder and executive director of Equality for HER, a nonprofit educational platform for feminine-identifying individuals. As a political journalist and commentator, she has appeared on Fox News and MSNBC, and has guest lectured at Yale and Harvard Universities. She has written for the Huffington Post and VICE and has been featured in Nylon, Teen Vogue, Salon, Broadly, VICE, This American Life, The 405, Public Radio International, and Bustle.
Posted: November 13, 2018