Featured Author Event: Bren Smith (Washington, DC)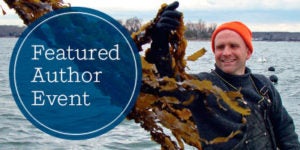 Colleagues in the vicinity of Washington, D.C., take note: Knopf author Bren Smith will be discussing his new book EAT LIKE A FISH: My Adventures as a Fisherman Turned Restorative Ocean Farmer at Politics & Prose Bookstore at the Wharf on Monday, June 24. Smith will be in conversation with Miriam Goldstein, managing director for Energy and Environmental Policy and the director for Ocean Policy at American Progress. This free event is from 7:00 to 8:00 p.m.
Part memoir, part manifesto, in EAT LIKE A FISH, Smith shares a bold new vision for the future of food: seaweed. Through tales that span from his childhood in Newfoundland to his early years on the high seas aboard commercial fishing trawlers, from pioneering new forms of ocean farming to surfing the frontiers of the food movement, Smith introduces the world of sea-based agriculture, and advocates getting ocean vegetables onto American plates (there are thousands of edible varieties in the sea!).
In the book's pages, he shows how we can transform our food system while enjoying delicious, nutritious, locally grown food, and how restorative ocean farming has the potential to create millions of new jobs and protect our planet in the face of climate change, rising populations, and finite food resources. Also included are recipes from acclaimed chefs Brooks Headley and David Santos.
Written with the humor and swagger of a fisherman telling a late-night tale, this is a monumental work of deeply personal food policy that will profoundly change the way we think about what we eat.
Bren Smith is a former commercial fisherman turned ocean farmer who pioneered the development of restorative 3D ocean farming. Born and raised in Newfoundland, he left high school at the age of 14 to work on fishing boats from the Grand Banks to the Bering Sea. His writing has appeared in The New York Times, National Geographic, The Atlantic, and elsewhere; his ocean farm won the Buckminster Fuller Challenge for ecological design, and, in 2017, was named one of TIME magazine's Best Inventions. He is the owner of Thimble Island Ocean Farm, and Executive Director of the non-profit Greenwave, which trains new ocean farmers.
Posted: June 21, 2019