Featured Author Event: Brian Catling (NYC)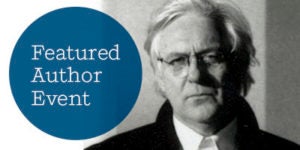 Vintage author Brian Catling will be presenting the stunning conclusion to his beloved Vorrh Trilogy, THE CLOVEN, at Greenlight Bookstore in Brooklyn on Monday, July 30, beginning at 7:30 pm. The event will feature Brian in conversation with author and Vol. 1 Brooklyn editor Tobias Carroll.
In the epic climax, we find the young Afrikaner socialite Cyrena Lohr mourning the death of her late lover, the cyclops Ishmael and rekindling a relationship with Eugène Marais, the famed naturalist.
Before departing down his own dark path, Marais presents Lohr with a gift: a powerful object that grants her visions of a new world. Meanwhile, Germany's impending Blitz looms in the distance like a storm cloud, and only Nicholas the Erstwhile senses the danger on the London horizon. Will Nicholas be able to save the man who saved him? And as Nazi forces descend upon Africa, will the Vorrh finally succeed in taking its vengeance against those who have invaded and defiled it? As the series draws to a close, battles will be fought, destinies will be fulfilled, and the fate of mankind will be revealed.
Brian Catling is a poet, sculptor, painter, and performance artist. He has held solo shows at the Serpentine Gallery, the Arnolfini, and the Museum of Modern Art in England; the Ludwig Museum and Project Gallery in Germany; and Hordaland Kunstnersentrum in Norway. Brian is the author of THE VORRH.
Posted: July 27, 2018