Featured Author Event: Chris Bohjalian (Westminster)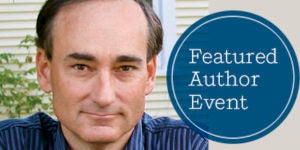 New York Times-bestselling author Chris Bohjalian will be discussing his novel, THE FLIGHT ATTENDANT, on Thursday, January 10, in Westminster, Maryland at "A Likely Story Bookstore" event at Carroll County Community College's Scotts Center Theater, beginning at 7:00 p.m. 
Bohjalian's latest pager-turner is a powerful story about the ways an entire life can change in one night: a flight attendant wakes up in the wrong hotel, in the wrong bed, with a dead man – and no idea what happened. Set amid the captivating world of those whose lives unfold at forty thousand feet, THE FLIGHT ATTENDANT unveils a spellbinding story of memory, of the giddy pleasures of alcohol and the devastating consequences of addiction, and of murder far from home.
Chris Bohjalian is the author of twenty books, including THE SLEEPWALKER, THE GUEST ROOM and CLOSE YOUR EYES, HOLD HANDS. His work has been translated into more than thirty languages, and three novels have become movies (Secrets of Eden, Midwives, and Past the Bleachers). He lives in Vermont.
Posted: January 9, 2019